An early-May projection by the Centers for Disease Control and Prevention that COVID-19 cases would reach 200,000 a day and deaths would surge to 3,000 per day by June 1 was off by 900 percent, an analysis by a University of Virginia economist found.
When June 1 arrived, Edwin Burton reviewed the numbers and found cases declined by 46 percent over the course of the month.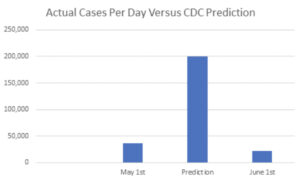 Deaths were reduced by 62 percent.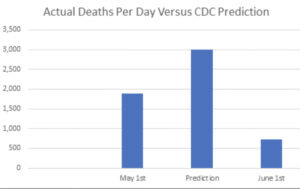 "The media, of course, is now radio silent on these predictions that were completely absurd in the first place," wrote Burton in an email to friends, colleagues, and former students, which he shared with Health Care News.
The May projection got lead-story attention from CNN, CNBC, ABC, NBC, CBS, the New York Times, and the Washington Post, Burton notes.
"The 'reopening too early narrative' narrative was stoked by these CDC predictions," Burton wrote.