Most economic numbers this week continue to point to a rapid recovery in the overall economy. This is occurring even as the recovery in the job market lags the rest of the economy.
Weekly initial unemployment claims remained close to 1 million for the third consecutive week. However, insured unemployment payments in mid-August totaled 14.5 million. This is down 223,000 from the previous week, and down by a million from a month ago.
Overall, the news remains mostly positive. The economy is rebounding despite the signs of a sluggish recovery in the job market. Second-quarter profits were much better than expected. The Fed says monetary policy will remain highly expansive, and the polls continue to show President Donald Trump narrowing his deficit to Joe Biden in the polls. Even the coronavirus is trying to cooperate (see below).
Reports for July show consumer spending up 2 percent and wages and salaries up 1.4 percent. The gains bring both to 95 percent of what they were at their peak in February. New orders for durable goods in July increased to 94 percent of their peak in February. Orders other than transportation and defense were at 97 percent of their February peak.
The Markit business surveys for early August show manufacturing and service companies in the mid-50s. The expansion in manufacturing was the strongest since January 2019.
Although consumer confidence fell in July as the job market showed only modest gains, the rebound in the economy following its collapse has been extremely encouraging.
What to Expect Next Week
The closely watched ISM surveys for manufacturing and service companies are due next Tuesday and Thursday. Based on the Markit surveys, both ISM surveys should again be in the upper 50s, pointing to a strong further recovery in August.
On Friday, the good news should continue with the August jobs report. With manufacturing registering a strong gain and with insured unemployment down by a million workers, the employment report should be very encouraging.
COVID-19: Daily Death Rates Trend Lower
In spite of the opening up of much of the economy, the daily death rate from the coronavirus continues to decline, both throughout the world and in the United States. Although the media continue to focus on total deaths (which continue to increase, of course), the declining trends in both cases and deaths are a very positive sign.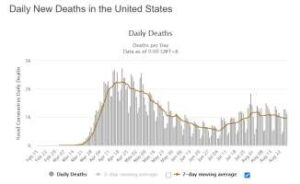 Source: Worldometer.com
The extremely low probability of serious consequences from contracting COVID-19 means the remainder of the economy can be safely reopened.
Market Outlook
Stocks were mixed again this past week. The Nasdaq and QQQs and S&P500 all soared to new all-time highs based on the performance of mega technology stocks. Small cap ETFs fell in value by 1 percent.
My analysis shows the S&P500 is 4 percent above fair value and the Nasdaq is much further overvalued. Even so, the highly expansive monetary policy can drive stock prices still-higher.