Stocks continue to consolidate and the housing market is very strong as business activity continues recovery from governments' COVID lockdowns.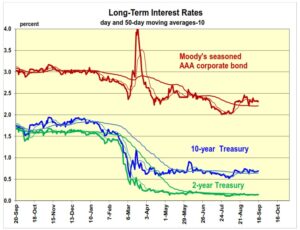 Both the employment data and the Fed's latest estimate of manufacturing activity indicate the economy in August was back to 91 percent to 93 percent of its peak achieved last February.
Business surveys (Markit and ISM) both point to a more rapid recovery in manufacturing in August. Business surveys tend to be more reliable than the Fed's index.
Employment data are a different story. They continue to show high levels of unemployment into September, despite improvements.
Weekly data on initial claims for unemployment insurance were close to 900,000 in the second week of September. This is down about 300,000 from the second week in August. Unemployment insurance payments went to 12.6 million people in the first week of September. This is down about three million from the first week in August.
The housing market remains exceptionally strong. The Homebuilders' Index for early September hit a new all-time high at 83.
What to Expect This Coming Week
There are two potentially important economic reports due next week. The most important will be Wednesday's Markit business surveys. These will provide the first estimates for how manufacturing and service companies performed in early September.
The August surveys showed a healthy rate of expansion, with readings close to 54 (50 representing no increase in activity). I expect September to be up slightly, to readings in the mid-50s.
Next Friday, statistics on new orders for durable goods will provide a glimpse of future business activity. The data for total orders is often highly erratic and unreliable since it includes the volatile defense and transportation sectors. A better guide to the economy is total orders less these volatile components. In July, this component had rebounded to 98 percent of its prior peak.
COVID-19: Daily Death Rates Trend Lower
The media is finally beginning to report on how the coronavirus is fading even as the economy opens and more people interact with each other. Our health advisors continue to warn of a second wave. Anything is possible. Fortunately, they have been so consistently wrong that the odds are they will be wrong about the second wave.
As schools open and the United States continues with an impressive recovery, daily COVID cases and deaths continue to trend lower.
Market Movement, Outlook
Stocks continued to consolidate this past week.
The NASDAQ indexes were flat to down 1 percent, the Dow was up 1 percent, and small caps were up 1 percent to 2 percent.
From a technical standpoint, the NASDAQ and QQQ indexes are signaling potential problems. Twice this past week, closing prices fell below their 50-day averages.
In another concerning development, trading volume was higher on down days and lower on up days.
Other major stock indexes have all held support above their 50-day averages.
The most likely course for stocks appears to be a leveling off close to their current position.
Once the market is finished consolidating the sharp gains experienced from June through August, it will be in a position to resume its longer-term uptrend.