By Scott McClallen 
A Reason Foundation report suggests an "equitable" path to cutting school funding if Michigan's budget woes reach the point where education expense reductions are necessary.
Michigan is facing a projected $1 billion to $2 billion deficit in fiscal year 2022.
The report gave four recommendations on how to ensure budget cuts, if any, aren't disproportionately shouldered by Michigan's most disadvantaged students.
Aaron Smith, the director of education policy at the libertarian Reason Foundation, told The Center Square that Michigan could improve funding equity by accounting for existing funding disparities and spending levels instead of cutting a percentage basis across the board.
Implement the 2X formula in reverse
Smith argued all districts should be placed on equal footing with the minimum foundational allotment.
If Michigan lawmakers were to do that, the Reason Foundation estimated it would save the state roughly $146 million because most districts and public school academies, representing about 63% of students, are funded at the minimum level.
Smith called Michigan's multiple foundational allotments "flawed" because rather than adjusting for "arbitrary" funding disparities, the state layers categorical dollars on top of existing funding disparities based on a 1994 school finance overhaul.
For example, figure one shows how districts are funded at the minimum allotment compared to districts funded at the target level.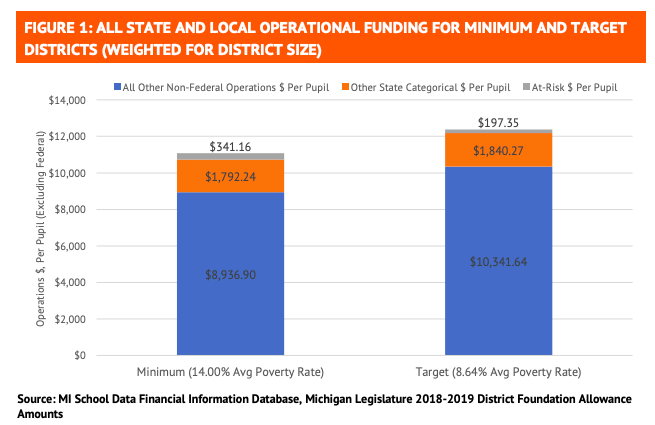 Some minimum districts with higher poverty rates receive less per-pupil than target districts because categorical funding is added to already-existing funding dollar allocations.
"In FY 2019–2020, the minimum allowance was $8,111 per pupil and the state-guaranteed maximum allowance was $8,529 per pupil – a difference of $418 per pupil, with some districts funded between these amounts," the report read.
Eliminate or reduce selected categorical grants
To appease districts that might have lost money from a 1994 restructure, Smith said the state funded those entities at a higher level rather than correcting the funding inequity.
Figure 2 isolates the categorical funding allotment for districts, showing the disparity and outcome of dumping categorical funding on top of a variable base funding.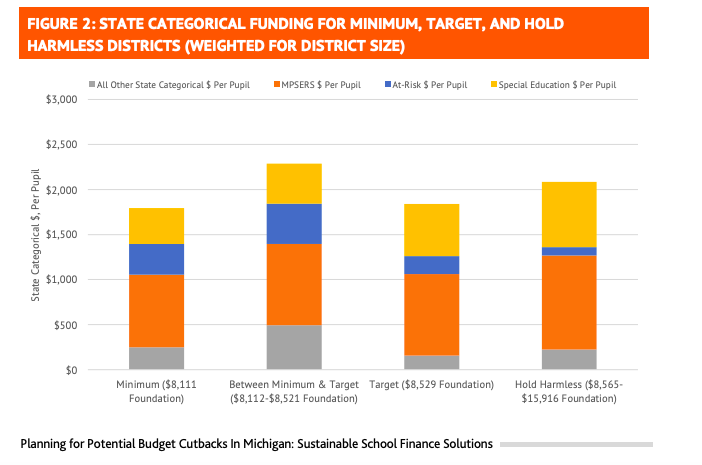 "Instead of saying a regular program student in district A should be funded at the same level as a regular program student in district B, they're giving more to a student in district A than to the student in district B, arbitrarily," Smith said.
One district might have a higher number of disadvantaged students, giving more reason to add categorical dollars, but Smith said multiple foundation amounts cause a problem of arbitrary funding that has to be corrected instead of dumping more money into already unequal school funding.
Maximize spending flexibility to leverage existing dollars
The report argues categorical programs restrict local district priorities by requiring dollars be spent for specific purposes.
"Especially in tough fiscal times, it's critical to give districts flexibility so that they can leverage every single dollar and do what's best for kids," Smith said.
Target at-risk dollars more effectively
Smith said any budget cuts should allow for additional funding to low-income students and other disadvantaged categories.
The best reform, Smith suggested, would be to streamline education dollars and create a simple, transparent and weighted student formula with one foundational allotment for regular students and weighted allotments for student-need categories, such as low-income students, special education students, and English-language learners.
"Ultimately, we want a more fair and transparent funding system," Smith said. "I think the current fiscal environment highlights the need for Michigan to have a more equitable funding system. The best way to do this is to transition to a weighted student funding system that streamlines dollars and allocates funding based on individual students and their needs."
Originally posted by The Center Square. Republished with permission.