(The Center Square) – Missouri Republican U.S. Senator Josh Hawley and the Show-Me Institute each revealed on Tuesday their "Parents' Bill of Rights."
Earlier this month, Hawley posted on social media his intent to create a document to "turn back efforts to shut parents out of their children's education." It further stated it "will protect the right of parents to know what their children are being taught, who is teaching them and which organizations are receiving school contracts."
Patrick Ishmael, director of government accountability at the Show-Me Institute, said his organization was working on their list for the last month. It was partly influenced by the organization's Show-Me Curricula Project, a "transparency project focused on whether schools in Missouri are teaching critical race theory (CRT) concepts in the classroom."
Ishmael said holding school districts accountable in providing information to parents and taxpayers should be widely accepted.
"I'm not aware of anybody who's pushed back against it yet," Ishmael said. "I presume there will be, but most of what's been called for comes from what I think would be consensus. I don't know who would object to curriculum transparency. Who would be opposed to spending transparency?"
Hawley posted his bill of rights on his website and said it defends parents' "fundamental rights against efforts to shut them out of their children's education." It also sated the bill would allow parents to sue federally funded schools in violation of the rights.
"America has long recognized the right of parents to direct their children's education but we are now seeing a concerted effort by the Left to shut parents out," Hawley said in a statement. "Whether it's Joe Biden's Justice Department attempting to classify parents as 'domestic terrorists' or activists funded by dark money who seek to quietly introduce critical race theory into school curricula, education has taken a back seat to radical politics in many schools and parents are taking notice. It's time to give control back to parents, not woke bureaucrats, and empower them to start a new era of openness in education."
Hawley's bill contains eight points. They include financial and curriculum transparency, including requiring parents to notify schools – rather than the current opt-out policy – for each activity their child may participate in, including guest lecturers, assemblies, field trips and other extracurricular activities. It allows parents to visit their child during school hours, gives them the right to all their child's school records and discretion over what information can be collected. It requires school board meetings on curriculum to be public and allow for public comments. It also requires schools to notify parents about all reported safety incidents, including all crimes or misdemeanors committed by teachers or other school employees.
The Show-Me Institute
bill
 is five points and requires more specific curriculum transparency, including all lesson plans being available in an electronically searchable format and posted on the homepage of the district's website. It also requires access to individual school and district academic performance information, financial information, and contract negotiation documents in the same manner.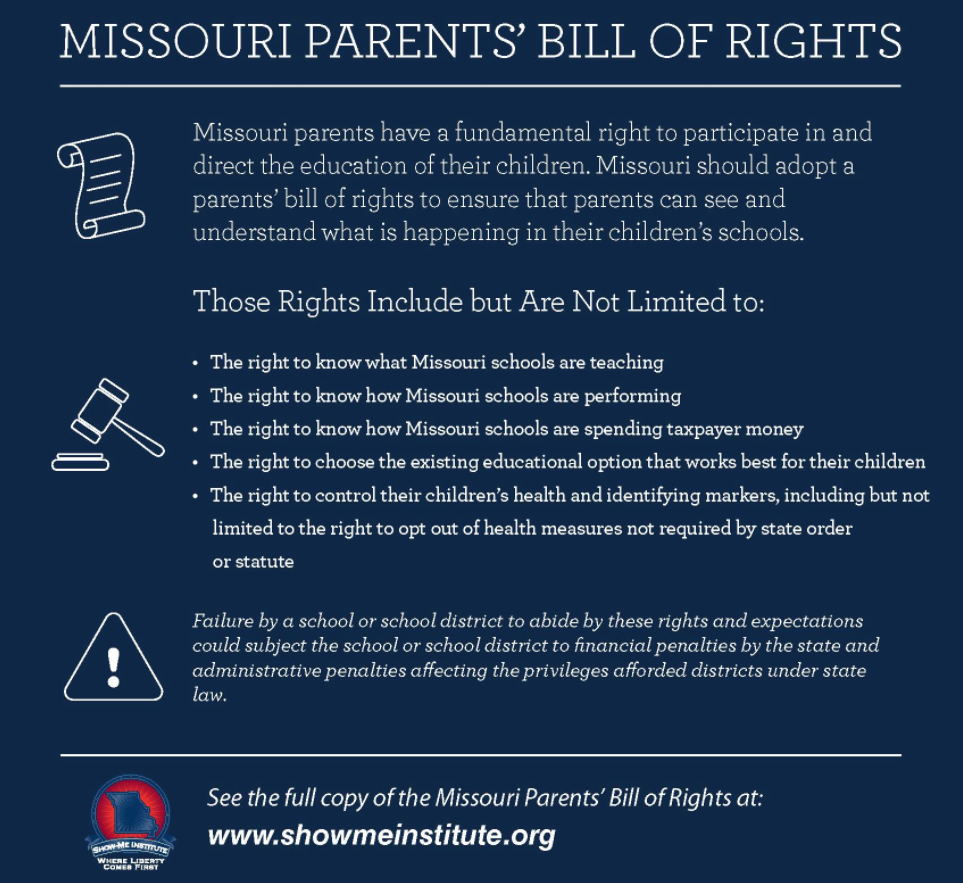 The Show-Me Institute also states the right to "control their children's health and identifying markers, including but not limited to the right to opt out of health measures not required by state order or statute."
"There has been a lot of concern and questions being raised among parents about school-mandated COVID vaccinations," Ishmael said. "This isn't a situation like the polio vaccine – you take it and you're not getting polio. But for some kids and others, the COVID vaccine is helpful for those with pre-existing conditions or high-risk groups. All children just don't fit into that.
"The real question is what are the core competencies of schools and school districts? It's to educate children. We shouldn't have school officials act as health care officials. Leave that to higher levels of government. The state has more resources to make informed decisions than 500 school districts."
Ishmael praised the efforts of teachers and said the focus on transparency will help strengthen public education.
"Teachers don't get nearly enough credit for the work they do," said Ishmael, whose mother was a teacher. "It's not 9-to-5, it's 7 a.m. to 7 p.m. Educating kids is difficult and there are administrative and ideological burdens in the industry. But we need more great educators."
Although Ishmael stated his usual focus is government, he said the examination of public education will bring needed awareness of shortcomings.
"It's said that sunlight is the best disinfectant," Ishmael said. "Having a window into what is happening with schools, both in terms of what's being taught and what's being spent, allows for oversight in an active way. It gives school districts notice that these things are going to be shown in the light of day."
Originally published by The Center Square. Republished with permission.