Data on death rates compiled by a Johns Hopkins University (JHU) researcher reveal a distribution of deaths during the recent pandemic that differs markedly from patterns observed in the two decades leading up to the outbreak of COVID-19.
In an unpublished working paper, Genevieve Briand, Ph. D., presents plots of U.S. mortality rates per age group for each of the six leading causes of death (heart disease, cancer, respiratory diseases, etc.), using publicly available data from the Centers for Disease Control and Prevention (CDC).  Her paper is titled "Age Distribution per Cause U.S. Monthly Deaths 1999-2021." Briand is the assistant director of the Advanced Academic Program at Johns Hopkins.
"These plots provide further evidence of reclassification of deaths across categories and evidence consistent with the vaccine deaths hypothesis," Briand writes.
"Reclassification of deaths across all categories" is a reference to the CDC's little-noticed March 24, 2020, revised guidance (ICD-10) on filling out death certificates for people suffering from COVID-19. Physicians, coroners, and medical examiners were instructed to include COVID-19 as a "primary" cause of death, even if a person suffered from other illnesses. Briand notes that "COVID-19 deaths were overstated" as a result of the CDC's revised guidance, without which "all these deaths would have found a home in other cause of death categories."
When Briand first wrote about reclassification in 2020, an article about her work in the JHU student newspaper was taken down because the editors claimed it was being used to spread "misinformation."
The Vaccine Hypothesis
The "vaccine hypothesis" Briand refers to posits that some people may have died from complications arising from having been vaccinated against the coronavirus.
A surge in deaths in April 2020, two months after the outbreak of the pandemic in the U.S., alarmed public health officials and served to justify far-reaching measures to stem the virus's spread.  But the CDC data also shows two additional peaks, one in January 2021 and the other in September 2021.
This caught Briand's attention.
"A peak in deaths in January 2021 is not unexpected – as peaks of deaths, more often than not, occurred in January," she notes.  "The fact that the April 2020 peak is lower than the January 2021 one, by a larger magnitude than the January 2018 peak is compared to it, and the fact that the September 2021 peak is nearly as high as the April 2020 peak, give further ground that the so feared April 2020 peak was not as alarming as [we were] led to believe."
From the data she gathered, Briand draws the following conclusions.
"[W]hile the April 2020 and the January 2021 COVID-19 death peaks show the usual age distribution, with deaths experienced in greater numbers for older age groups, the September 2021 do not.  In September 2021, recorded COVID-19 deaths show 65-74 years old died in greater numbers than 75 years and older, and COVID-19 deaths for the 45-54 years old (55-64) were as high as the 85 years and older (75-84). This has never happened before for deaths due to respiratory diseases, from 1999 to 2021.  These September 2021 peaks for 'younger' age groups are consistent with the vaccine deaths hypothesis.
The hypothesis should further be tested with death data for groups of individuals who all have been vaccinated, such as individuals in the Armed Forces.  If these vaccines can lead to death, then they can certainly lead to conditions requiring hospitalization.  The hypothesis thus could further be tested by looking at hospitalization data related to such documented conditions," wrote Briand.
Supporting Data from Europe
The United States isn't the only place with disturbing data on COVID-19 vaccinations and deaths.  According to official German government reports, there have been 2,255 fatalities in Germany following COVID-19 vaccinations.
But Joel Hirschhorn, Ph. D., points out that health insurance claims put that figure at 31,254. Hirschhorn, a former professor at the University of Wisconsin Madison and author of Pandemic Blunder used data from the European Medicines Agency (last update March 26, 2022) and presented the information online in his Pandemic Blunder Newsletter on April 7.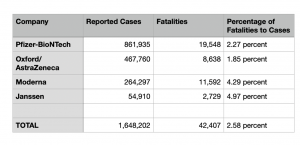 "All the COVID death data from the U.S. and other countries are seen as proof that COVID vaccines have always been a failure contrary to the often-cited assertions that they may not prevent illness but curtail deaths; the data disprove this, especially the figure of one million U.S. covid deaths," Hirschhorn told Health Care News.
An analysis published on February 20, 2022, in Intellectual Conservative by David R. Usher of Civitas Economic Engineering, which examined COVID death rates in the U.S., Sweden, and South Korea as of December 2021, concluded that America's response to the pandemic "violated the rules of epidemiology."
"The United States COVID rate since the beginning of the pandemic is 30.9 times higher than South Korea's and 1.6 times higher than Sweden's even though vaccination rates of these countries are between 60% and 80% — a difference unlikely to be a significant factor affecting deaths (even if vaccines are assumed to be effective,)" Usher noted.
"Policy [in the U.S.] did not focus on reducing deaths of high-risk individuals over the age of 65, but were counterproductively applied to everyone," he wrote.  "Focusing on infection rates caused a pandemic of experimental counterproductive policies and scared the general population."
"We must recognize that vaccines are unlikely to ever become as effective against respiratory virus diseases like influenza and COVID as vaccines against the stable smallpox, polio, and measles viruses," wrote Usher.  "Instead, SARS-Cov-2 mutates far faster than the 6-9 months it takes for a new mRNA vaccine to be approved and distributed.  By the time the vaccine hits the market, the virus it targets will be long gone."
Bonner R. Cohen, Ph.D. (bcohen@nationalcenter.org) is a senior fellow at the National Center for Public Policy Research.
Internet info:
Genevieve Briand, "Age Distribution per Cause U.S. Monthly Deaths 1999-2021, March 2022."