Affordable Care Act (ACA) – Obamacare- health insurance plans are about to get a lot less affordable, with some plans proposing premium increases of 10 percent or more for the coming year.
"The main contributor to premium growth is health cost trend, which reflects rising prices paid to providers and pharmaceutical companies as well as a rebound in utilization," reports a Kaiser Family Foundation review of proposals made by 72 insurers in 13 states. "While our analysis focuses on the ACA markets, the main premium drivers we identified (prices and utilization) are systemic and not specific to the ACA markets."
Crowd-Out Increase
Fear of a political backlash over soaring Obamacare costs prompted congressional Democrats to increase premium subsidies for plans sold on the ACA exchanges. The Inflation Reduction Act passed in August extends the subsidy increases for another three years, through 2025. The bill was passed without a single Republican vote in either chamber.
With inflation increasing premium costs, the subsidies will cushion the price hikes for many of the roughly 13.8 million people enrolled in Obamacare. Taxpayers will have to pick up the difference.
Small businesses and their millions of employees will face hard choices because of cost inflation.
Under the ACA, small employers are not required to offer health insurance, though many of them do and had done so before Obamacare was enacted. These employer plans are not eligible for the increased subsidies, and being smaller they lack the heft to negotiate favorable premium rates with insurers. As the country flirts with a recession and the threat of stagflation, some small businesses may be forced to drop coverage for their employees.
Subsidy Persistence
Health care premiums are not immune to the inflation that has buffeted other sectors of the economy since the beginning of 2021, and the increased subsidies for ACA premiums may be a sign Obamacare insurance will have to be subsidized indefinitely if the program is to continue to attract enrollees.
Doug Badger, a senior research fellow at The Heritage Foundation's Center for Health and Welfare Policy, says he has been warning about the real cost and perverse incentives of the ACA for years.
"Obamacare premium subsidies rise dollar-for-dollar with premiums," Badger said. "Insurers know that taxpayers, not their customers, will pay for the premium increases.
"Nearly one-third of the people who are enrolled in Obamacare pay premiums of less than $10 a month," Badger said. "Taxpayers pick up the rest, an average of $524 a month. If insurers raise their premiums for next year, these customers still will pay less than $10 per month. Taxpayers will be saddled with 100 percent of the premium hike."
Insurers are taking advantage of this mismatch, Badger says.
"Given these perverse incentives, it's no surprise that insurers have raised their rates," Badger said.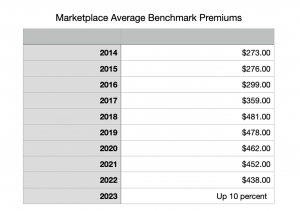 COVID Spending's Long Inflationary Shadow
Devon Herrick, Ph. D., a health economist and advisor to the Heartland Institute, traces higher ACA premiums to inflationary pressures brought on by profligate government spending during the pandemic.
"Premiums are rising due to government overspending," he told Health Care News.  "Inflation was caused by excessive COVID spending.  Premiums were further given a boost by enhanced Obamacare premium subsidies."
Bonner Russell Cohen, Ph. D., (bcohen@nationalcenter.org) is a senior fellow at the National Center for Public Policy Research.