De-dollarization is a sign of American decline as countries adopt the Chinese yuan as their new reserve currency.
IN THIS ISSUE:
De-Dollarization and American Decline
Public Employee Unions Flex Muscles with Election Wins
Season of the Snitch
Right, Left, and Left Out
Cartoon
---
De-Dollarization and American Decline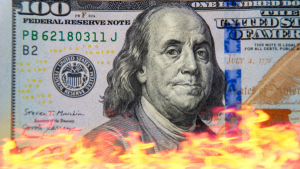 In last week's issue, I wrote about the emerging China-Russia global power axis, its obvious threat to the U.S. economy and national security, and the strong possibility of a very rapid decline of the dollar as the dominant currency for international trade. A major decrease in the use of the dollar as the world's reserve currency would, I noted, radically undermine the U.S. economy and, let's say, "fundamentally transform" life in the United States.
Fox News Channel talk-show host Tucker Carlson took up this theme with gusto in last Wednesday's show. Carlson's description of the effects of the near-universal acceptance of the U.S. dollar as a trading currency since the end of World War II identifies both the great advantages it gave us and the powerful moral hazard it created:
The world's central bank[s] stockpiled U.S. dollars far more than any other currency. Now, most Americans may not have known that, or they did, but it doesn't matter what they knew. It was very good for everyone who lives here. Because there were so many U.S. dollars in circulation outside of the country, the cost of borrowing money inside the country remained artificially low, and that's one of the reasons that in this country, America, middle-class people could buy their own homes. The U.S. government, meanwhile, was able to run up astronomical debts without many obvious consequences.
Carlson notes that the dollar's status as the world's preferred reserve currency enabled the U.S. government to run up debt without dire immediate consequences, which is the only kind of effect politicians generally care about.
Carlson characterizes the current situation as an outcome of U.S. leadership in imposing sanctions against Russia over the Ukraine War, and that is certainly a big reason that this is coming to light now.
Carlson quotes a Daily Caller article by economists E. J. Antoni and Peter St. Onge, which I will recount from the original:
A second critical feature of a reserve currency is its apolitical nature. Which Biden is now gutting. After both parties in Washington destroyed the dollar's stability with inflation, now the Biden administration has chosen to wield the dollar as a weapon. Together, the message to foreigners [is that] they should get out while they still can.
In response to Russia's war with the Ukraine, the United States froze the dollar reserves of Russia's central bank. To be clear, these were not American assets, but were dollars owned by the Russian central bank and the Russian people. The seizure was intended to cause bank runs and collapse Russia's credit system. It didn't work.
Instead, it exposed the Biden administration's willingness to violate the trillions of dollars foreigners rightfully own. The danger of this precedent is difficult to overstate.
If you're a government official, banker, or business owner in a foreign country, you must add the Biden administration's moral arrogance and economic recklessness to your calculations and give it grave consideration. Antoni and St. Onge note that this hazard is obvious and formidable: "Perhaps a foreign country disagrees with Biden on 'green' energy mandates, or transgender policies, or diversity quotas. Is there some ESG threshold of wokeness where your national treasury is drained without warning?"
To protect yourself, you will start trading in currencies that were once a good deal less dependable than the dollar but which Biden has brought into parity by making the dollar far less trustworthy than it was a mere two years ago.
Carlson summarizes the flight from the dollar with some of events I noted in the last issue plus others:
So, Russia announced it will conduct business in Asia, Africa and Latin America in Chinese currency.
Brazil, which has a brand-new government supported by the Biden administration, announced it will do the same thing. Brazil's [the] largest economy in the hemisphere after ours. Pakistan is doing the same thing. That's a longtime U.S. ally. India and Malaysia, two of the biggest economies in the world, announced they'll be settling their trade in their own currencies, not the dollar. Even France, which we liberated, is using Chinese currency in a new liquefied natural gas trade. China and Saudi Arabia are now major business partners, and again, etc., etc., etc.
The undermining of the dollar through inflation and confiscation of foreign assets is one of the most irresponsible and destructive things Biden has done as president—and the other damage he has inflicted is enormous. Reflect on that for a moment.
In my view, this disaster is the culmination of a long-term process resulting from more than three decades of awful, hubristic choices by the U.S. government and, ultimately, the American people who elected them, with President Joe Biden and the 2021-2022 (razor-thin) Democrat-majority Congress being the worst and most destructive of all. Deindustrialization, erosion of the value of the dollar, ever-rising government spending, wasteful wars, and moralistic interference in other nations' sovereign affairs, progressively intensified miseducation and demoralization of the nation's children, and countless other foolish decisions have eroded the productivity and go-getter spirit of the American people—which was once this nation's pride and joy and what made us distinctive and indeed rather exceptional.
Carlson ends by noting that hyperinflation traceable to war debt brought down Germany's Weimar Republic and "led to communist revolutions across Germany and ultimately, to fill in the blank, the Nazi regime." Carlson's point is that the United States has done the same thing "repeatedly for decades" to fight "pointless war[s]." That is true. I would respectfully submit that equally important contributors to the disaster have been our enormous, inflationary, initiative-destroying welfare state; mind-rotting educational system and culture; corporatist concentration of power in an insulated class of collaborating government and private-sector elites; regulatory destruction of entrepreneurism and individual aspirations; and countless other ruinous effects of arrogant governments.
Carlson is to be commended for bringing wider attention to this latest disaster. It is still not too late to turn things around by reversing the policies noted above. It soon will be.
Sources: Fox News; The Daily Caller
---
Public Employee Unions Flex Muscles with Election Wins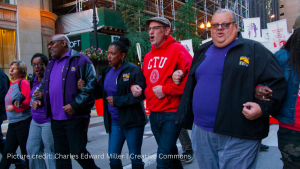 The week's election results showed consolidation of leftist gains since 2018. The farthest-left candidate won in important races in Chicago and Wisconsin, the latter considered a swing state in presidential elections. In Denver, Democrats took the two slots for a June 6 mayoral runoff election, with the top Republican candidate finishing a distant fourth.
Off-year elections reflect the clout of big-money institutions such as public employee unions, advocacy organizations, and large corporations, with the first-named being the most powerful of all in municipal elections.
Chicagoans elected Brandon Johnson, a candidate to the left of incumbent Lori Lightfoot, the radical progressive incumbent mayor whose failures in crime control caused her to fail to make the runoff election held last Tuesday. Johnson defeated Paul Vallas, a lifelong Democrat and former CEO of the Chicago Public Schools and other public school districts.
Johnson, a Cook County commissioner and former teacher and union organizer, received powerful support from the Chicago Teachers Union—about $1 million in the primary race—and other progressive organizations. Johnson "raised some $10.1 million through March 31, and 91% came from unions, more than half from the CTU, according to the Illinois Policy Institute," The Wall Street Journal reports.
The runoff race centered on crime and education. Johnson has been highly critical of police, saying in a 2020 radio interview defunding is "an actual, real political goal," not just a slogan. "The former teacher and union organizer has argued that the answer to addressing crime is not more money for police but more investment in mental health care, education, jobs and affordable housing, and he was accused by rivals such as Lightfoot of wanting to defund the police," the AP reported. Vallas advised the Fraternal Order of Police when it was negotiating with Lightfoot on policing issues, and he had called for the addition of hundreds of police officers and efforts to restore morale. Johnson promised to add or promote 200 officers. In addition, Johnson strongly opposes all education reforms.
Throughout the runoff campaign, Johnson repeatedly deflected criticism by claiming it was motivated by racism. The final vote went roughly along racial lines, as indicated by a density map showing the election results:
Fox News analyst Gianno Caldwell characterized Johnson's election as "horrific" and said the incoming mayor "stands to be worse than" Lightfoot, speaking on the network's show Your World. "[This] to me was the signing of thousands of death certificates of people who don't have to die because of the policies of which he's advocated for," Caldwell told the outlet. "This is a guy who's defunded the police, who's advocated for that, who's defended rioters and looters, who's not thought about public safety, who the police department, the police union, rather, has said that multiple police officers would resign with his election at stake."
Caldwell's teenage brother was murdered in Chicago last year, with crime continuing to spike in the city as police leave the force and prosecutors increasingly decline to bring charges for violent crimes.
Just north of Chicago, a state court race received national attention—and a record amount of campaign contributions.
Wisconsin has a strict abortion ban (no abortions except to save a prospective mother's life), as an 1849 law was reinstated by the U.S. Supreme Court's Dodd decision last year. The state Supreme Court had a conservative majority, with a conservative vacating the seat contested last week. Far-left candidate Janet Protasiewicz, a Milwaukee County judge, campaigned on a pledge to turn back that law. Protasiewicz also supported a referendum to amend the state's constitution "to explicitly let courts consider factors like the need to prevent witness intimidation and a defendant's past convictions when setting bail." The latter position eroded the difference between the two candidates (and their political parties) on crime prevention, which voters consider highly important.
Protasiewicz won handily, by 10 percentage points, against a GOP candidate whom Democrats spent $1 million in the primary to nominate over a more formidable contender. The two candidates for the Supreme Court seat spent more than $45 million—almost three times the previous record nationwide—and were flooded with campaign money from out of state. The result shows the political power of the abortion issue and, critically, the campaign contribution advantage it provides for candidates in favor of abortion. It also confirms the power of the public employee unions, who were solidly behind Protasiewicz.
Meanwhile, however, the Republican candidate won a hotly contested election in the Milwaukee suburbs that gave the GOP a supermajority in the state Senate. The victor, state Rep. Dan Knodl, said "I certainly would consider it" regarding whether he would vote to impeach Protasiewicz over her performance as a circuit court judge. That question will not arise, as the judge moves on to the Supreme Court. The Republicans are just two seats shy of a supermajority in the state Assembly, where an impeachment vote requires a simple majority.
Wisconsin voters effectively chose to authorize the courts to change the state's abortion laws instead of relying on the state legislature and governor, who are supposed to decide these issues. That, of course, is exactly what happened in Roe v. Wade.
The Leftist press (apologies for the redundancy) are spinning the Wisconsin election as a big win for the Democrat Party and a good omen for the latter's prospects in the 2024 elections. The solid Republican majorities in the Wisconsin Legislature indicate that such triumphalism may be a bit premature.
The Denver primary election results kept Democrats in power but ensured the government would not move further to the left. Although Democrats dominated the vote in the mayoral race, the most-progressive candidates fell short in the races for mayor and city council seats. The Left's favored candidate for mayor, Lisa Calderón, did not make the runoff. Prominent progressive candidates for the city council fell short as well, with the Denver magazine 5280 saying "it seems like many Denver voters had a hard time bending far-left."
Overall, the week's elections generally continued recent trends. It is too early, in my opinion, to draw any strong conclusions regarding 2024. The upcoming elections, and the future of the nation, will be determined by one thing, and it is ultimately unpredictable: events.
Sources: ABC-7; AP; CBS Chicago; Fox News; The Guardian; Wisconsin Public Radio; Newsweek; 5280
---
Season of the Snitch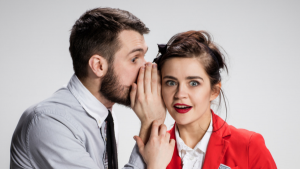 Colleges and universities are setting up networks of anonymous student informers reminiscent of the conditions in Communist countries, write Stanford [University] Classical Liberalism Initiative cofounder Iván Marinovic and University of California, Santa Cruz German literature professor emeritus John Ellis in The Wall Street Journal.
The current effort is a massive expansion of higher-education administrators' increasing denials of fair treatment to college students accused of assaults over the past two decades, moving on from physical assaults to microagressions:
According to a recent study by the free-speech watchdog organization Speech First, 56% of American universities have adopted schemes that encourage students to report on one another anonymously for "bias" or "protected identity harm." This means that anyone who falls short of campus orthodoxy on "pronouns," transgenderism, microaggressions and proscribed language might soon be denounced and deprived of basic due process, including the right to face an accuser.
It also means, the authors note, that students will deploy the universities' diversity, equity, and inclusion departments to do the bidding of small-minded people with personal grudges:
Anonymous reporting has a self-selection component: Decent people won't do it because they consider it morally repugnant. A system that rewards spying on friends and neighbors will disproportionately attract cowardly people motivated by the worst of human nature—resentment, jealousy, grudges and dogmatic intolerance. The snitches will be people who don't understand the damage Stasi-like behavior will do to our universities.
The authors are right to compare this situation to Cuba, East Germany, and other benighted places past and present. Even more frightening is the fact that the U.S. government and activist groups have increasingly been encouraging everyone, not just college students, to become informants. (In addition, federal, state, and local law enforcement agencies routinely coerce people into becoming informants.)
The campaign to normalize snitching about non-offenses—"suspicions"—has graduated far beyond the "If you see something, say something" admonition from the U.S. Department of Homeland Security. Increasingly common are nongovernmental efforts such as the Say Something "anonymous reporting system" developed in the wake of the Sandy Hook killings. Say Something encourages children and teens to "submit secure, anonymous safety concerns to help someone who may hurt themselves or others" through a website, telephone hotline, and mobile app.
"Sometimes it's not always easy to spot the warning signs of violence," the Say Something website admits, so the organization provides a list of "some of the most common behaviors and incidents to report." The organization says it has prevented "105 acts of violence with a weapon" and saved "406 lives with crisis interventions" based on 171,000 anonymous tips. Preventing even one life from being taken via violence is laudable. What happens in the tens of thousands of cases that prove unfounded ought to be a concern as well.
In any case, it appears that program participants will be well-prepared for college, where the informant culture has come to full fruition.
Source: The Wall Street Journal
---
Right, Left, and Left Out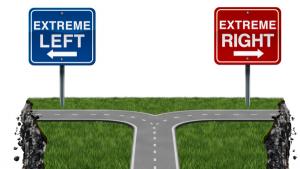 The broadcast TV networks consistently portray right-of-center people and issues as extreme and left-of-center attitudes as the norm, a new study from the Media Research Center (MRC) finds:
An MRC study found that between November 9, 2022 (the day after the 2022 midterm elections) and March 21, broadcast networks ABC, CBS, and NBC used such labels as "far-right," "extreme right," and "ultraconservative," a total of 101 times on their flagship morning and evening shows, as well as their Sunday political talk shows. During that same period, analysts found only one instance in which a journalist used an equivalent "far-left" label.
The only case in which a network used the term "far left" was in suggesting that Roe v. Wade was the middle ground between two extremes. That, of course, is another attempt to skew the perception of what is normal in political and cultural discourse today.
This campaign of mischaracterization is part of a strategy to portray the far left as the norm and anything to the right of that as extreme, by rhetorically connecting everything on the right to extremism:
"[F]ar-right" and similar labels were applied to a very wide array of individuals. Republican members of Congress were by far the most heavily labeled group (38 times), followed by general references such as "the far right," or "extreme rightwing Twitter users" (19 times). There were 12 instances of labeling for the administration of Israeli Prime Minister Benjamin Netanyahu, 11 cases for the Oathkeepers, 10 cases for the radical German group that attempted a coup in late 2022, and five for the supporters of former Brazilian president Jair Bolsonaro. All others were labeled only once or twice.
The press quashes coverage of leftist crimes and abuses, making it appear that the Right is the sole source of unjustified extremist violence, the MRC notes:
This 101-to-1 disparity tracks with the broadcast networks' well-established habit of obfuscating or outright ignoring extremism from the left.
For example, the pro-abortion radical who attempted to murder Supreme Court Justice Brett Kavanaugh and his family received a tiny fraction—less than 10 percent—of the coverage that Paul Pelosi's attacker received during the first five days following each incident. The attempt on Justice Kavanaugh's life also received several orders of magnitude less coverage than the January 6 hearings did during an equivalent time frame.
Back in 2018, ABC and NBC ignored attacks by a left-wing mob on the home of Fox News Channel host Tucker Carlson. That same year, NBC covered up an assault on their own camera crew by a pack of antifa members.
And earlier this month, ABC and CBS downplayed a case of violent arson against a police and firefighter training center in Atlanta, Georgia. ABC dismissed the attack as mere "foolishness," while CBS referred to the arsonists as "demonstrators."
Of course, we all remember the peaceful protests of 2020 and how the media pretended that this very real insurrection was just a great big block party, a far cry from how the media characterized January 6. The coverage of politically motivated violence carries a distinct tone of "no enemies to the left":
There is no arguing that far-right extremists exist in the U.S. and abroad. Rather, what's at issue here is the media's inability to acknowledge extremism on the left. It seems that whenever they do bother to report on the misdeeds of far-left actors, they meticulously avoid ideological labels.
Such prejudicial coverage of events is politics, not journalism. It fulfills a maxim in community activist Saul Alinsky's 1971 book Rules for Radicals: "Pick the target, freeze it, personalize it, and polarize it," Alinsky wrote. It should be no wonder at all that political violence is on the rise when the nation's most powerful media outlets routinely demonize half or more of the nation.
Children and elderly people in Nashville are only the most recent victims of this media-generated climate of hate. The broadcast media are complicit in those capital crimes.
Source: Media Research Center
---
Cartoon