Ohio's Piglet Book finds $2.7 Billion in savings lawmakers could offer taxpayers, says The Buckeye Institute.
The Buckeye Institute has released its 2023 Piglet Book, which identifies more than $2.7 billion in savings for Ohio taxpayers and analyzes Ohio's proposed biennial budget to offer specific savings for lawmakers to consider as they debate the state's two-year budget.
"This year's Piglet Book outlines how policymakers can offer more than $2.7 billion in savings to Ohio taxpayers while still providing essential services," said Greg R. Lawson, a research fellow at The Buckeye Institute and author of the Piglet Book. "By implementing pro-growth tax policies, prioritizing necessary spending, closing tax loopholes, ending corporate welfare and government 'philanthropy,' and continuing the effort to fund students first, lawmakers can spur economic growth and prosperity for all Ohioans."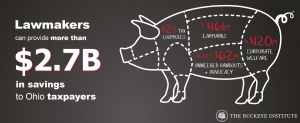 INFOGRAPHIC: 2023 Piglet Book
To reduce government spending, Lawson offered the following recommendations:
Close tax loopholes saving Ohioans $2 billion.
End corporate welfare saving Ohioans more than $150 million.
End government philanthropy and advocacy saving Ohioans nearly $62 million.
Eliminate earmarks saving Ohioans more than $161 million.
Enact other reforms saving Ohioans more than $350 million.
Download the 2023 Piglet Book.
Piglet Book® is a registered trademark of Citizens Against Government Waste and is used with permission. Originally published by The Buckeye Institute. Republished with permission.
For more great content from Budget & Tax News.