Out-Foxed Tucker Carlson may do well as viewers cut the cord of cable-TV in favor of streaming.
IN THIS ISSUE:
Out-Foxed
Suffer the Children
Health Insurance 'Job Lock'
What's the Matter with Kansas?
Cartoon
---
Out-Foxed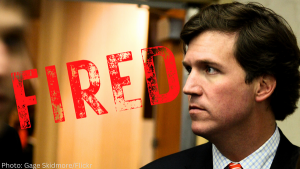 The most-discussed news of the week was the departure of the host of a television show that regularly draws an audience of one one-hundredth of the nation's population.
The news that Tucker Carlson would no longer be hosting his popular 8 p.m. show on Fox News Channel overshadowed even President Joe Biden's announcement that he was running for reelection. (Not that Biden's announcement was any surprise.)
The abrupt cancellation of Carlson's show has incited a storm of speculation about what prompted the dismissal, which is to be expected. I think that the full answer is to be found not solely in the specifics of Carlson's relationship with Fox but very much in current changes in the news business, which are starting to accelerate.
Fox is currently taking a big hit in the ratings, which its management must have expected.
After the apparent firing of Carlson from his eponymous show, the replacement program's ratings have fallen from about 3.3 million people per night to 1.24 million on Thursday night. The continuing drop in audience size resulted in Fox News Tonight falling slightly behind MSNBC's Chris Hayes program. Little-watched conservative network NewsMax appears to have picked up some of Carlson's audience, with the channel's 8 p.m. program hosted by Eric Bolling quadrupling its audience to 562,000 viewers on Tuesday before declining to 456,000 on Thursday: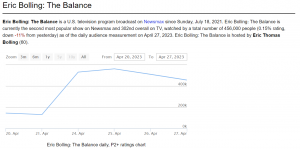 Source: USTVDB (https://ustvdb.com/networks/newsmax/shows/eric-bolling-balance/)
The audience erosion after Carlson's departure is the one thing of which we can be sure at this point. It has also become clear that Carlson did not leave voluntarily. Why Carlson was let go, who made the final decision to jettison the popular host, and the proximate cause of his dismissal remain matters of speculation.
Citing a speech Carlson made at The Heritage Foundation on the Friday of his final show, at which the TV personality made a couple of references to prayer and embraced what he characterized as a fairly watered-down Christian denomination of which he is a member, Vanity Fair claimed Carlson was fired because 92-year-old Fox chair Rupert Murdoch "was perhaps unnerved by Carlson's messianism because it echoed the end-times worldview of Murdoch's ex-fiancée Ann Lesley Smith," to whom the media mogul had previously been engaged for two weeks.
Murdoch had become "increasingly uncomfortable with Smith's outspoken evangelical views," Vanity Fair had reported earlier. This decision was one of numerous "erratic decisions [Murdoch] has made of late that raises questions about Murdoch's leadership of his media empire," Vanity Fair writer Gabriel Sherman wrote. Fox lawyers said the media mogul is sliding rapidly into senility, Sherman claims.
The Vanity Fair explanation of the firing is thus simultaneously a culture-war argument, a claim (and warning) about the dangers of being openly Christian today, and a titillating account of conflict within a powerful family outside of the magazine's social circle.
The Wall Street Journal, by contrast, suggested there were strong professional justifications for the firing. In addition to Carlson's arguments and reporting on the 2020 elections cited in the recently settled defamation lawsuit against Fox by Dominion Voting Systems, revelations of Carlson's harsh and at least sometimes crude observations about Fox executives, other coworkers, and outsiders such as former president Donald Trump "caught up with him" and resulted in his firing, the paper reported. The statements were found in "a trove of emails and texts from Fox executives and hosts that were made public as a result of  Dominion's defamation lawsuit," the WSJ reported.
"The private messages in which Mr. Carlson showed disregard for management and colleagues were a major factor in that decision," according to the WSJ, in addition to "concerns that the populist firebrand had come to believe himself bigger than the network—a cardinal sin in Fox Corp. Chair Rupert Murdoch's empire—and was increasingly operating as his own island."
A lawsuit by a former producer (whose contacts with Carlson were exclusively electronic, not in person) exposed Fox to additional possible embarrassment and legal liability, the WSJ further reported.
"Mr. Carlson is a defendant in a lawsuit filed last month by Abby Grossberg, a former producer for Mr. Carlson and Fox Business host Maria Bartiromo," the WSJ reported. "The suit, which also names Fox and other individuals, said, 'Mr. Carlson's derogatory comments towards women, and his disdain for those who dare to object to such misogyny, is well known on the set' of his show." Bartiromo is still at Fox Business Channel.
In addition to personal shortcomings, the WSJ found journalistic and organizational-mission problems with Carlson's work. Carlson "had expanded beyond a conservative viewpoint on politics into more of an attack on marginalized groups" and "sometimes trafficked in what critics—including some higher-ups within Fox—felt was thinly veiled racism on his show," the WSJ reported. This critique of Carlson suggests that Fox fired him for cause:
Inside Fox News, there has been a growing sense that Mr. Carlson couldn't be managed, and viewed himself as untouchable, people familiar with the company said. Legal documents also revealed Mr. Carlson was unafraid to run roughshod over those whose views or actions he opposed.
At present we do not know the proximate cause of Carlson's dismissal: why today and not yesterday or tomorrow. We do not know who ultimately pulled the trigger, though obviously Rupert Murdoch and Fox Corp. CEO Lachlan Murdoch must have agreed on it. We do not know what part Carlson's comments about Fox News Media CEO Suzanne Scott may have played, from texts and other messages revealed to Fox but not the public in the evidence-discovery process in the Dominion lawsuit.
What is clear is that Fox Corp. decided to distance itself from Carlson, probably for a variety of reasons. Beyond that, however, it is evident to me that Fox is trying to reposition itself as the sensible center of today's media news world, just as CNN, News Nation, Scripps, and others are attempting to do.
Carlson, after all, is not the only media figure or entity to become a news story lately. CNN fired Don Lemon, another controversial figure and obvious loose cannon who had been moved from a primetime slot to mornings. Chris Cuomo was let go from CNN for political excesses and has rebranded himself as an objective journalist at NewsNation, which bills itself as "America's source for engaging and unbiased news, which reflects the full range of perspectives across the country."
In addition, the hard-left media-news site BuzzFeed closed down altogether. The Scripps News Channel, which formerly bore the far less genteel name of Newsy, announced it is expanding its daily roster of live news broadcasts. The channel describes itself as "your source for concise, unbiased video news and analysis covering the top stories from around the world. With persistent curiosity and no agenda, we strive to fuel meaningful conversations by highlighting multiple sides of every story. Scripps News delivers the news and perspective you need without the hype and bias common to many news sources."
What all these events and many others indicate is a transition in major media organizations away from opinion-heavy coverage with a clear political position, toward operations that claim to offer a more objective and news-oriented approach.
Exiling Carlson but not fellow conservative primetime hosts Sean Hannity and Laura Ingraham makes sense with this in mind. Carlson had begun to wander much farther afield than they, delving heavily into conspiracy theories, speculation about extraterrestrial alien visitations, and similar arcana having much more to do with exposing and afflicting the powers that be than with policy issues that directly affect the Fox News Channel audience. For all their partisan leanings, Hannity and Ingraham present generally standard news-comment shows.
Carlson's show, by contrast, was rapidly becoming much more like the type of programming offered on podcasts and other alternative viewing modes. Figures such as Joe Rogan, Steven K. Bannon, Glenn Beck, Bill O'Reilly, Megan Kelly, Lou Dobbs, and Trish Regan are now producing their own programs with no middleman and with the freedom to say what they want (within the limits of what YouTube will allow). These programs take the infotainment element of TV news channels to the next level, foregrounding their hosts' ability to "make it make sense," as podcaster and former ESPN and Fox Sports journalist Jason Whitlock puts it. The hosts and their guests sift through the news, replay, and reply, giving the audience a way through the barrage of information that arrives daily in their web browsers and inboxes.
Many of these personalities left mainstream media, for a variety of reasons, and some are making significantly more money than they received from the big multinational corporations that once employed them. It is instructive that right-of-center personalities have gravitated toward these new media, as their message increasingly differs from the woke, corporatist, internationalist agenda common among major corporations today. Podcasts are becoming the new talk radio.
Carlson could easily develop a similar following at Twitter, Rumble, or some other online forum, especially as older people become more familiar with those venues and cut their cable TV cords. If Carlson supplements online distribution with availability on a syndicated group of broadcast TV channels, he could conceivably increase his audience well beyond what it was at Fox News.
That makes great sense for Carlson.
The separation also makes sense for Fox News Corp. Repositioning itself as a true news outlet, rather than an opinion channel with occasional news, would enable Fox News to move into the long-vacated space other, much smaller organizations are now trying to occupy. Fox has been doing some of this, and seeing this as their strategy makes sense of the moves they've been making since 2020—including on that notorious election night when their team was the first to call Arizona in the presidential vote.
Fox News gets more money, by far, from monthly cable fees than any of its competitors. That is a strength. It is also a weakness: should its ratings decline as the audience for its current style of programming moves to other media, those fees would shrink rapidly. It would be a defining moment for the company, and not in a good way. Fox News is taking a risk if this is its plan, but the far greater risk would be to do nothing.
Fox News has the strengths to keep its position as the dominant force while the TV news environment undergoes this tidal change. A splashy, news-grabbing firing that moves the channel's image even a little way toward the middle of the political spectrum might be just what the TV doctor ordered.
There's one big problem remaining for Fox News, however: it is chasing a rapidly declining customer base. The number of subscribers to cable and satellite television services declined by 26.5 percent in the past decade, and the out-migration is accelerating. "The nation's largest pay television providers lost 5.9 million customers in 2022, the largest drop on record, according to Leichtman Research Group," The Hill reports. More than half of all U.S. households do not subscribe to pay TV.
This is the audience Fox News is chasing: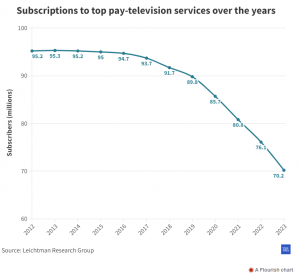 Source: The Hill (https://thehill.com/homenews/media/3971232-cable-tv-cord-cutters-became-the-majority-in-2022/)
Perhaps Tucker Carlson has escaped just in time.
Sources: Vanity Fair; Vanity Fair; The Wall Street Journal; The Wall Street Journal; The Wall Street Journal; TheDesk.net; The Hill
---
Suffer the Children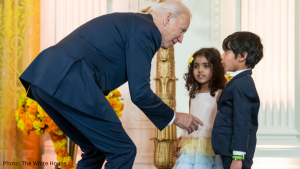 Two recent news headlines that arrived within a few days of each other are more closely related than they may at first seem:
"Biden alarms with assertion there's 'no such thing as someone else's child'" … "'Our nation's children are all our children'"—Fox News
"UN Says Minors Can Consent to Sex"—The Washington Free Beacon
Fox News reports on Biden's comment in the first quote above:
Biden spoke at the National and State Teacher of the Year Celebration and honored the award recipient, Oklahoma high school teacher Rebekah Peterson. During his praise for the teacher, he quoted Peterson and appeared to agree with her statement that "there is no such thing as someone else's child."
"Rebecca put a teacher's creed into words when she said, 'There is no such thing as someone else's child.' No such thing as someone else's child. Our nation's children are all our children," Biden said.
Headline two refers to the fact the United Nations is pressing governments to allow pedophilia, as The Washington Free Beacon reports:
The United Nations is working to mainstream sex with minors, stating in a report that relations with underage individuals can be considered consensual despite worldwide prohibitions on such acts.
"Sexual conduct involving persons below the domestically prescribed minimum age of consent to sex may be consensual in fact, if not in law," several U.N.-backed organizations claimed in a March report that advocates decriminalizing these acts as part of a "human rights-based approach" to laws governing sexual relations.
"In simpler terms, the U.N. is saying that minors can consent to sex, and that this is a human right," The Daily Signal reports. Heritage Foundation president Kevin Roberts said in a tweet about the U.N. report, "When we say they're coming for your kids, we're not kidding."
I think we should take seriously the connection between these two statements, however disparate they may at first seem. Governments—on both the federal and state levels in the United States—have increasingly been acting on the premise that children belong to the state, not to their parents. As the venue for Biden's controversial statement illustrates, public schools across the nation have been asserting ever-increasing power over children's values, attitudes, and ideas about morality. States have been taking children away from their parents for an ever-widening variety of reasons.
Now the president is openly saying your children don't belong to you—and he has shown countless times that he acts aggressively on his beliefs and even claims he is willing to back up his opinions with atomic weapons and fighter jets deployed against the American people. Biden has also regularly demonstrated that people in power can physically impose themselves on other people with impunity, as does the strange fact that the guest lists of the late Jeffrey Epstein have never been made public despite their obvious importance.
If your children belong to "everybody," then "everybody" has the right to decide what they may do with them, to them, or about them. Everything about your children is open to democratic decision-making authority. The state is then the ultimate judge of who can do what to your children. Even leaving your children open to sexual exploitation is logically on the table. Each conclusion leads inexorably to the next.
If the government owns your children, and people under 18 can "consent" to sexual activity with adults, then your children really do belong to everybody. In every way.
Source: Fox News; The Washington Free Beacon; The Daily Signal
---
Health Insurance 'Job Lock'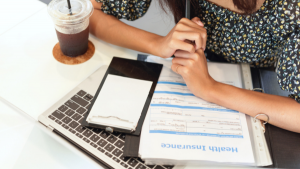 Health care policy experts recently discussed the federal tax exclusion for employee health insurance from a variety of perspectives at a national policy conference. Panelists at a Cato Institute policy forum in Washington, D.C., on March 31 addressed the question, "Should Congress End the Tax Exclusion for Employer-Sponsored Health Insurance?"
The exclusion of employer-provided health insurance from federal income and payroll taxes reduces workers' tax bill significantly—by $352 billion in 2022. Employer-provided health care plans make up $1.3 trillion of workers' annual compensation, Health Care News (HCN) reports. That money must go to health care instead of other things, which increases spending on health care and gives employers greater power over their employees' spending, Michael F. Cannon, director of Health Policy Studies at the Cato Institute, told attendees at the conference:
"If we got rid of the exclusion, what would happen to the $1.3 trillion [currently] denied [to] workers? They would make their own health care decisions," said Cannon. "They would have more control over their incomes, transferring control from employers to employees and allowing them to purchase health insurance tax-free [if individuals' health care spending were made tax-free up to a maximum]. They could still stay in employer-provided plans if they choose to do so."
Employers, however, have a powerful incentive to lobby against such reforms, HCN reports:
Employment-based health coverage reduces workers' job mobility, said Brian Blase, president of the Paragon Health Institute, who moderated the panel discussion.
"The federal government does not tax health coverage," said Blase. "About half of all Americans receive their health care through their employer. … This leads to job lock, in which people stay in their jobs because they fear they will lose their health care."
That is a very interesting point, and it deserves wider consideration. Job lock reduces the number of job openings in the economy, thus reducing workers' market power. In addition, workers who stay in their jobs are less likely to get big pay hikes than those who move on to greener pastures, which also serves to keep wages artificially low. Spread across the economy, job lock depresses wages. That benefits employers and hurts workers.
In addition, "Employees do not benefit equally from the tax exclusion," HCN quotes Cannon as saying. "The exclusion is regressive, with people of higher incomes benefitting more from the tax break than low-income wage-earners."
What looks like a good deal for workers—"free" health care—in actuality takes economic power from workers and hands it to their employers:
Many employers continue to support the exclusion because it gives them more power, said Richard Hinz, a senior advisor to the American Benefits Council, a group representing corporate employers.
… "There is a benefit from the standpoint of the business. Employers want to bind the employees to the firm. They are benefitting from their workers' ties to the firm."
Hinz notes there are benefits for employees:
Employees also benefit from the purchasing power employer-provided health care gives them, said Hinz.
"Acting as agents, businesses have real leverage in the marketplace to negotiate better coverage," said Hinz.
There are alternatives that don't bind employees to their current jobs. Employees freed from employer-provided insurance could benefit from association health care plans and other options that allow them to band together to purchase insurance, lower the risk for the insurer, and hence lower the cost of health insurance. Employees would also be freer to test the job market and change their places of residence, all of which would reduce the power of businesses and restore it to workers and consumers.
Source: Health Care News
---
What's the Matter with Kansas?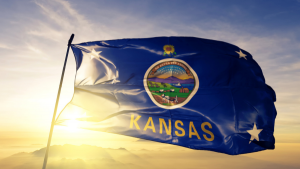 Kansas just became the first state to define gender in response to efforts around the country to erase social and institutional distinctions between males and females. The Epoch Times reports:
Kansas has become the first state to adopt a definition of gender with the passage of legislation that keeps men, no matter what gender they identify as, out of women's bathrooms, locker rooms, and other intimate spaces.
It also separates inmates and restricts participation in sports according to one's sex at birth.
The move came late in the afternoon of April 27, when the state Legislature voted to override Kansas Gov. Laura Kelly's veto of S.B. 180, which became known as the "Women's Bill of Rights."
Under it, a female is defined as "an individual whose biological reproductive system is developed to produce ova." A male is defined as "an individual whose biological reproductive system is developed to fertilize the ova of a female."
It also defines gender words calling for "woman" and "girl" to be used to refer to human females and "man" and "boy" to refer to human males. It defines "mother" as a parent of the female sex and "father" as a parent of the male sex.
"Similar gender-defining bills to the one passed in Kansas are pending in other states, including Oklahoma and Montana," the paper reports.
Kansas is the state whose voters last August rejected a proposed constitutional amendment which would have allowed the state government to tighten restrictions on abortion in the wake of the U.S. Supreme Courts Dodds decision striking down Roe v. Wade. Commentators at the time characterized the referendum vote as a big win for abortion and heralded it as an indicator of a burgeoning national rejection of conservative social and cultural positions.
Perhaps this is equally significant.
Source: The Epoch Times; AP
---
Cartoon