American Airlines and Total Orthopedics Sports and Spine (TOSS) clinics in Texas can use the first persistent antiviral surface coating designed to kill SARS-CoV-2, the virus that causes COVID-19, the Environmental Protection Agency decided.
The EPA issued an emergency exemption to the state of Texas, permitting it to allow the use of the product, Surfacewise2, by the two companies. According to the EPA statement, the product can deactivate viruses and bacteria within two hours of application and last up to seven days.
Unlike medicines and medical devices, which are regulated by the U.S. Food and Drug Administration, the EPA regulates disinfectants.
'Right to Try' Coating
The EPA's authorization is similar to the FDA approving a drug for compassionate use, says H. Sterling Burnett, a senior fellow at The Heartland Institute, which publishes Health Care News.
"This is the equivalent of 'right to try' in medicine," Burnett said. "It's an emergency, and states are looking for anything that might reduce the spread of the virus and allow their economies to open back up."
The use of the product under the EPA order is limited to the two companies in Texas. EPA approval is an important step in battling COVID, said EPA Administrator Andrew Wheeler in an August 24 EPA press release.
"Since day one, I have been committed to ensuring that Americans have as many tools as possible to protect their families, and today we are delivering on that promise by approving the first-ever long-lasting antiviral product that will help fight the spread of the novel coronavirus," Wheeler said.
Limited Approved Use
Two EPA orders published on August 15 lists conditions on where and how the product can be applied.
"Application of SurfaceWise2 is for indoor use only, to non-porous, non-food-contact surfaces in aircraft and at airport facilities owned or controlled by American Airlines, in Texas," the order states. A similar rule applies to TOSS.
Section 18 of the Federal Insecticide, Fungicide, and Rodenticide Act (FIFRA) authorizes the EPA to allow emergency use of a pesticide. Texas Agriculture Commissioner Sid Miller requested the exemption.
"Texas is proud to once again step up and join the fight against this virus," Miller stated. "This Section 18 exemption gives businesses another tool to protect consumers as we try to bring our economy back."
"Any state can apply to the EPA for an emergency 'off-label' use for a product that has shown during testing the ability to kill or neutralize the virus on surfaces," said Burnett. "The normal product testing regime continues in the background, and the emergency use is only for specific surfaces or surface types with particular companies or locations for a short period of time, subject to renewal. So far, only Texas has applied, and only for use by American Airlines and at an orthopedic and sports clinic.
"Although I think other states are taking a wait-and-see approach, I think it's a good program and should be expanded once the coronavirus pandemic has passed, for other products and other uses, as long as the states and companies involved are willing to take responsibility for any negative results that may occur," said Burnett.
Restaurants, Stores, too?
The limitations on the use of SurfaceWise2 are not unusual, says Jess Hilton, chief medical officer of Allied BioScience.
"For these emergency use authorizations, the EPA must assess the product's use for very specific applications, which is a thorough and time-consuming process," Hilton told Health Care News. "For example, if another clinic submitted a request, even though TOSS clinics have been approved to use, they'd need to test the product on the new clinic's surfaces before approving."
"Perhaps more notably, the company is also working closely with the EPA to grant broader, national Section 3 authorization, which means the need for case-by-case reviews would no longer be necessary," Hilton said. "The EPA did promise to fast-track this approval upon announcing the initial, conditional approval."
SurfaceWise2 differs from other disinfectants used against COVID-19 in apparently being able to kill microbes for up to a week, says Erwin Haas, M.D., an infectious disease expert and policy advisor to The Heartland Institute.
"That may make it less necessary to clean tables in restaurants, shopping carts, etc. on a daily basis," Haas said.
Uncertainty About Vectors
Lack of clarity on how COVID-19 spreads makes identifying the right counter-measures difficult, says Haas.
"The mode of transmission of COVID-19 is still controversial," Haas said. "Back in January and February, we knew that it was a kind of coronavirus which causes about 30 percent of common colds and is reputed to be spread, in part, by being deposited on hard, shiny surfaces by droplets."
Other potential explanations of COVID-19 spread that have emerged would require different preventive measures, says Haas.
"The next idea to capture the public health fancy was that it was spread by droplets of a larger size, and so wearing masks, socially distancing, and limiting our contacts became the rage," said Haas.
"One eliminates aerosols by exchanging the air many more times in buildings or by running the air past UV lights such as was done in elevators back when tuberculosis was common," said Haas. "How this dangerous virus is spread is important, and we still don't know exactly how."
Joe Barnett (joepaulbarnett@att.net) is a former managing editor of Budget & Tax News.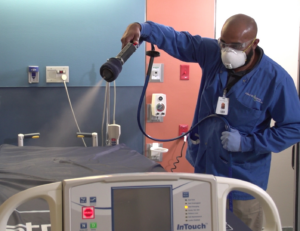 Joe Barnett (joepaulbarnett@att.net) is a former managing editor of Budget & Tax News.
(product photo, courtesy SurfaceWise)