For the most part, news on both the economy and on the virus continues to move in the right direction.
Today's report on new orders for durable goods in the United States shows the sector remained strong in August. After eliminating the volatile defense and transportation orders, orders were up 1 percent above July and are within 1 percent of their peak reached in January of this year.
In other news, Markit's business surveys show the strong recovery in August continued into early September. The overall index for manufacturers rose to 53.5, the fastest improvement in operating conditions since January 2019. The index for service companies was down slightly but was the second fastest since March 2019.
Weekly employment data show little change from the prior two weeks. Initial claims for unemployment insurance remained elevated at 870,000 in the third week of September. This is down about 300,000 from the third week in August. Unemployment insurance payments went to 12.6 million people in the second week in September. This is down about 2½ million from the first week in August.
What to Expect Next Week
This coming week is an important one for economic news. On Thursday, the report on wages, salaries, and consumer spending in August is likely to show the economy continued to expand at a healthy pace.
Also on Thursday, the closely watched ISM survey for manufacturing activity in September should reaffirm the healthy recovery of the economy noted by Markit.
The most important report will be Friday's employment report for September. Weekly employment data indicate the potential for a gain of 300,000 private-sector jobs and an unemployment rate remaining in the vicinity of 8 percent.
COVID-19: Daily Death Rates Trend Lower
Our nation's most vocal health officials have made another bad prediction. Their expected surge in cases and deaths due to the reopening of schools hasn't occurred.
Let's hope their record of wrong predictions continues. They are warning of a surge in cases and deaths once cold weather arrives. Based on the health officials' record thus far, the odds favor a downward trend in cases and deaths, as opposed to their predicted upward surge.
The following charts show daily cases and deaths in the United States through yesterday.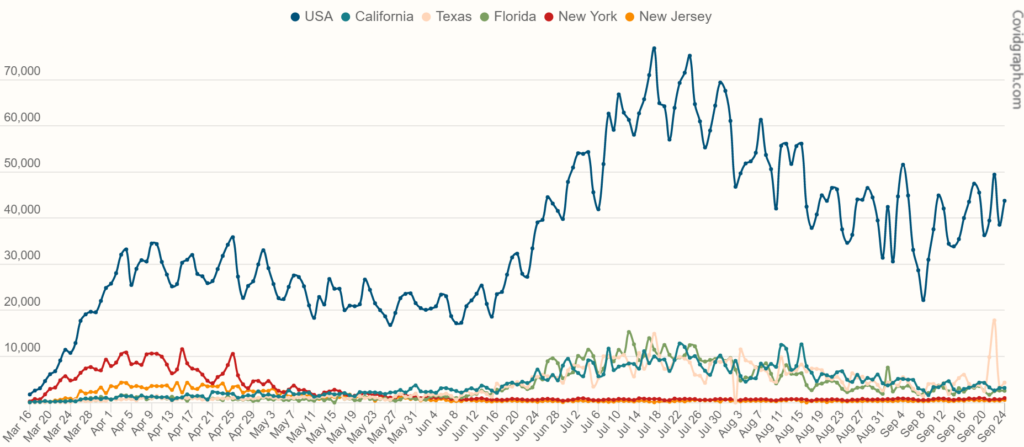 Daily new COVID-19 cases, through Sept. 24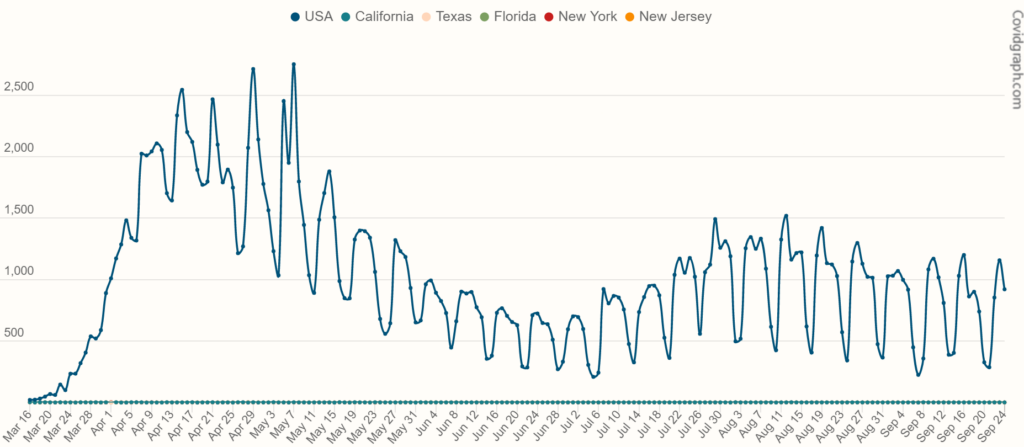 As schools open and the United States continues with an impressive recovery, daily COVID-19 cases and deaths continue to trend lower.
Market Outlook
The major indexes lost 2-4 percent this past week, and small caps lost 6 percent.
There was little in the way of negative news to account for the decline. Stocks had gotten ahead of themselves. At its peak at the beginning of this month the S&P 500 was 10 percent above my estimate of fair value and the Nasdaq had become even more overvalued. The 10 percent decline since then has brought both indexes closer to fair value.
With COVID continuing to decline, the main risk affecting stocks is the upcoming national elections. For whatever reason, Democrats are promising to impose destructive Third-World economic policies if elected. Such policies undermine investments and reduce living standards.
I continue to believe voters will reject such policies and will opt for law and order. However, if I'm wrong, the economic and investment environment would suffer.
Barring a major unexpected political or economic development, stocks are likely to swing above and below current levels between now and the election.