There were only two insightful reports on the economy this past week—for jobs and housing. Both show impressive gains.
Weekly initial unemployment claims fell by 56,000, to 787,000. They are down more than 100,000 from a month ago. There has also been a substantial decline in the insured unemployment rate to 5.7 percent from 8.7 percent a month ago. Also, the number of people receiving unemployment insurance payments fell to 8.4 million; it was 12.6 million a month ago.
The Homebuilders Index for October was 85, breaking the all-time high of 83 set last month.
What to Expect Next Week
The week ahead will bring important economic reports. The Markit surveys of business activity for October should show solid gains for the month, with readings in the mid-50s.
On Tuesday, new orders for durable goods in September will show whether orders are continuing to recover. August orders (excluding the volatile defense and transportation components) were within a half of a percentage point of their prior peak.
My estimate shows next Thursday's third quarter GDP numbers will show a 9 percent increase in real output. The media may again mistakenly report the gain at its annual rate of 31 percent. (It's an impressive gain however you may state it.—Ed.)
The table below shows quarterly changes for data currently available.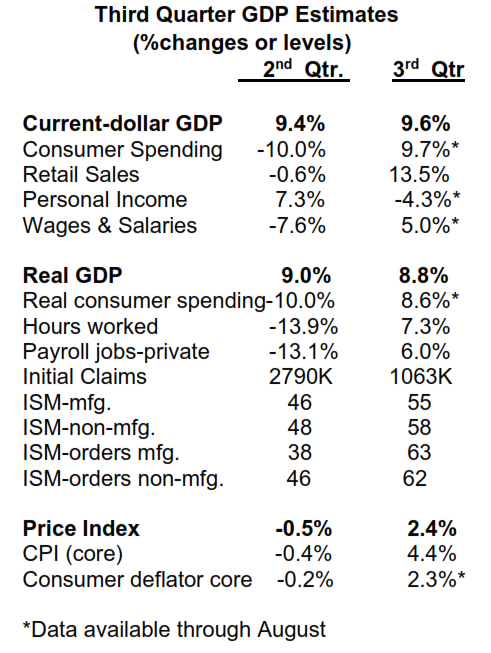 On Friday, the report for wages and salaries, incomes and spending in September should show the economy continued its rapid recovery at the end of the third quarter.
 COVID Cases Higher, Deaths Less So
Charts through yesterday show daily COVID cases are increasing, while daily death trends are more contained. CDC data show hospitalization rates through October 10 continued to decline for all age groups. (Click weekly rate button to see trend).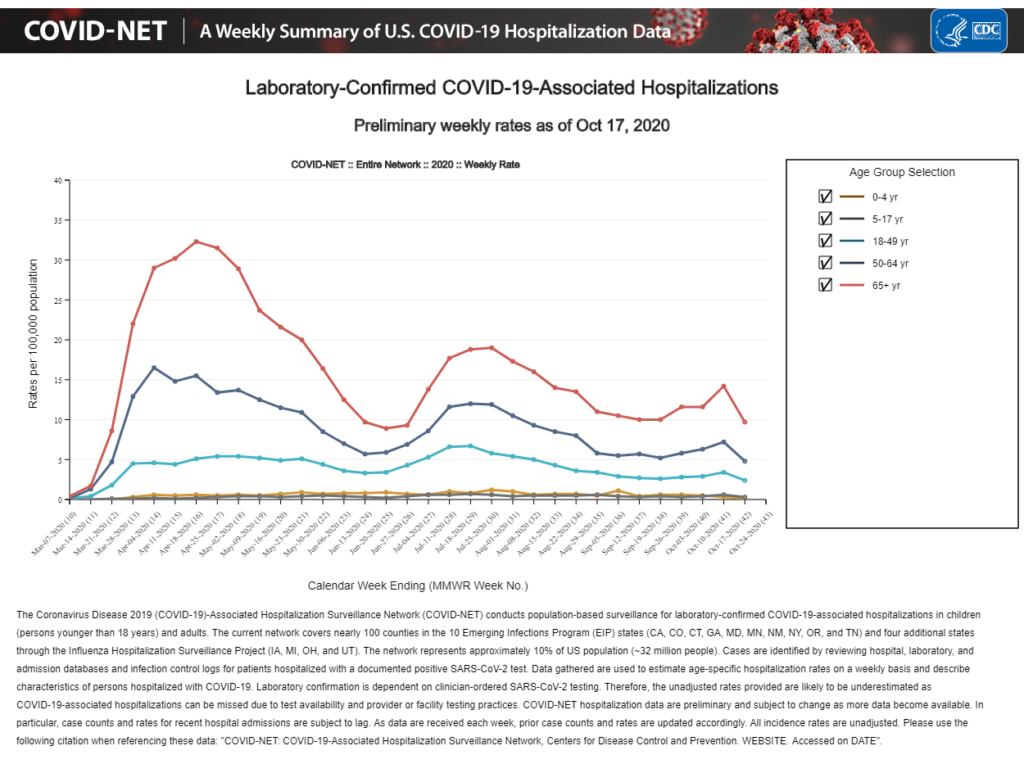 Market Outlook
Stocks continued to bounce around without any clear direction. The Nasdaq and QQQs were down 1 percent to 2 percent offsetting some of the gains from the previous week. Other major indexes were down less than 1 percent.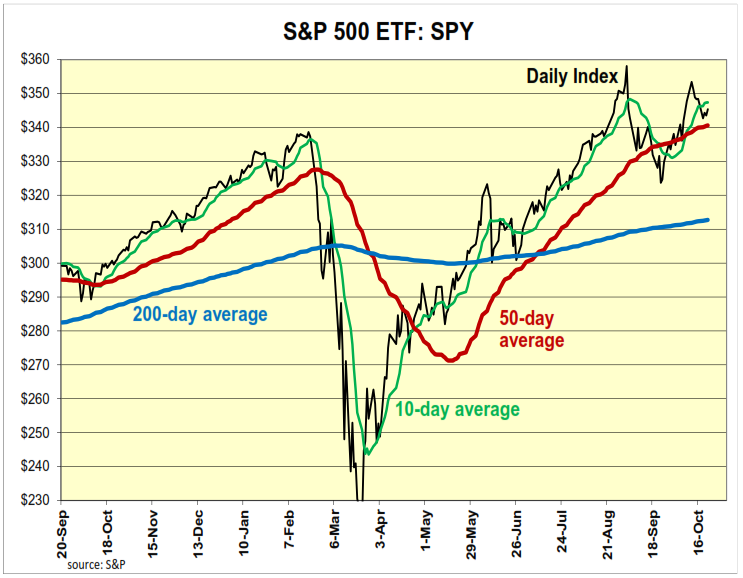 Economic news continues to show the economy recovering rapidly. Even weekly jobs data are now pointing in a positive direction. With more upbeat news on the economy and corporate earnings, analysts are busy raising their fourth quarter earnings estimates.
With Biden's odds of winning already slipping away, the news tying the former VP directly to Hunter's family dealings is another challenge for the former Vice President.
Both the economy and the election are moving in Trump's direction. My main concern is Republicans buying into a second massive "stimulus" bill. This would slow the recovery in the coming year.