House Democrats are pushing forward an aggressive bill to make prescription drugs more affordable—but free-market watchdogs warn that it could cause drugs to double in price.
H.R. 3, the "Elijah E. Cummings Lower Drug Costs Now Act," would allow Medicare to negotiate prices with drug companies. However, if the bill is passed, drug companies that refuse to match prices to those in other countries' government-run health care systems would be assessed a tax that can go as high as 95 percent of the gross sales of the drug.
Price Negotiation with Hammer
Although health care reformers are open to the idea of allowing Medicare to negotiate drug prices with manufacturers (see related article, page 1), H.R. 3 gives the government power to control the entire process.
"The text of H.R. 3 is pretty clear—any drug not subject to government-imposed price control is subject to a 95 percent tax on the gross sales from that drug," says Ryan Ellis, president of the Center for a Free Economy. "Therefore, any drug subject to this tax can be expected to immediately double in price, at least."
It is not true that most drugs are unaffordable for the average American, Ellis tells Health Care News.
"The biggest myth about prescription drug costs is that they are generally high," Ellis said. "That's true for new breakthrough drugs, but those are few and far between. Most drugs are pretty cheap since we have generics and since patent lives have expired on innovator versions. Drug costs are actually really not that bad, especially compared to things like hospitals."
How Price Controls Backfire
Prices for common generic drugs have dropped by 37 percent since 2014, while branded drug prices have increased by over 60 percent, according to the Peterson Center on Healthcare.  Among adults who currently take prescription drugs, 46 percent say it is "very easy" to afford their medications, and only 9 percent say it is "very difficult.
When the government tampers with the market, it can lead to escalating costs, Ellis says. Ellis points to a chart published on January 11, 2019, by the American Enterprise Institute (see graph), which shows how prices skyrocket in health care and hospital service when they are highly regulated.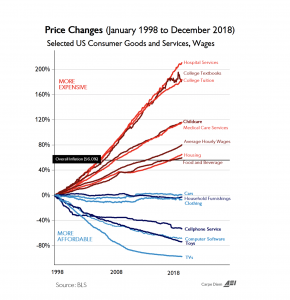 The only way for prices to come down is to allow health care to function like other markets, Ellis says.
"Prescription drugs should be like buying laptops or low-carb candy bars," Ellis said. "The prices ought to accurately reflect the drug, without middlemen or other inefficiencies. Even better, make the whole transaction tax-free."
Ashley Herzog (aebristow85@gmail.com) writes from Avon Lake, Ohio.