Life, Liberty, Property #25: woke business woes mount, as consumers and investors pull back from political controversies the companies created.
IN THIS ISSUE:
Woke Business Woes
Fraying Threads
Farage De-Banked
What's in Your State's Wallet?
SUBSCRIBE to Life, Liberty & Property (it's free). Read previous issues.
---
Woke Business Woes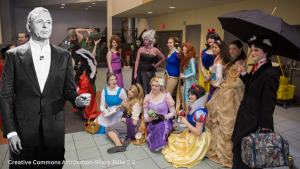 Numerous prominent corporations have taken big hits to their bottom lines and stock prices this year in the wake of political controversies they have brought on themselves with woke and sexual agendas. Consider Disney, long an entertainment behemoth and cultural byword. The corporation's stock price is down by 55 percent from its most recent peak.
Newly returned Disney president Bob Iger is planning to break up the company in an apparent effort to sell off some assets. Recent movie box-office bombs indicate that Disney and its once-loyal customer base have largely parted ways. American Military News reports:
New analysis indicates that Walt Disney Company has accrued losses close to $900 million across eight film releases from June 2022 to the same month in 2023.
The eight titles included in the recent analysis are "Lightyear," "Thor: Love and Thunder," "Strange World," "Elemental," "Ant-Man and the Wasp: Quantumania," The Little Mermaid," Black Panther: Wakanda Forever," and "Guardians of the Galaxy Vol. 3."
The eight recent movies released by Disney cost approximately $2.75 billion for production and marketing, generating a disappointing return of just $1.86 billion, according to a video by Valliant Renegade, a YouTube financial analyst.
Contrast that with the box-office success of the independent film Sound of Freedom, which has brought in more than $100 million in its first two and a half weeks after costing a minuscule $14.5 million to produce. Sound of Freedom is on track to surpass the Warner Bros. film The Flash in U.S. domestic box office soon, with the latter film expected to lose about $200 million overall.
Disney's streaming platform Disney+ lost four million subscribers in the first quarter of 2023, after 2.4 million people exited in the last quarter of 2022. These are the service's first subscriber losses ever. I predict that they won't be the last.
Disney+ is looking rather desperate. The streamer's association with longtime hitmaker Marvel seems to be hurting Marvel instead of helping Disney. Marvel's new shows are tanking on Disney+ and coating Marvel with a serious stink. Inside the Magic reports:
Despite being one of the franchise's top-rated shows, Ms. Marvel still holds the unfortunate record for having the least-watched debut episode of any MCU series on Disney+ with 775 thousand viewers, thanks to a general lack of interest and virtually nonexistent marketing. But the studio's latest Disney+ release, the Samuel L. Jackson-led Secret Invasion, barely avoided taking Ms. Marvel's place.
Secret Invasion aired its premiere episode on Disney+ in early June, where it earned the second-lowest premiere viewership of any MCU title on Disney+ with 994 thousand viewers. Since then, it hasn't picked up much stream, with the penultimate episode having just aired on Wednesday, July 19.
Disney has tried to stanch the loss with "a frankly desperate move to gain viewership: putting [Secret Invasion] on a different streaming service," Inside the Magic reports in that same story. "Marvel Studios announced via Twitter Thursday morning that Hulu subscribers will be able to watch the first three episodes of Secret Invasion starting tomorrow, July 21 until Thursday, August 17."
Disney is also going to try to breathe some life into Ms. Marvel by airing it on ABC, the Mouse-owned broadcast and cable TV channel.
Iger and Gov. Ron DeSantis of Florida are currently engaged in a dispute over whether reports of a lack of long lines at Walt Disney World in Orlando indicate a similar loss of connection with the firm's customer base. The company's actions indicate DeSantis is correct: "The Resort announced steep Disney Resort hotel room discounts earlier in the year and is currently offering the lowest Disney Park ticket offer in recent memory," reports Inside the Magic.
All of this, of course, came to a head in March of last year when DeSantis and Disney tangled over the state's then-new Parental Rights in Education Act. Disney's films, TV shows, and other entertainment vehicles had increasingly embraced a woke and sexual-politics agenda over the past couple of decades, yet it did not do the company much harm until Disney began engaging in direct political disputes with state governments.
Competitors are closing in. Mansion Entertainment Group just announced plans to build a $2 billion-plus theme park and resort in Oklahoma to open in 2026, with "a commitment to producing high-quality, wholesome content that the entire family can enjoy," the company's website states.
The American Heartland Theme Park and Resort is an ambitious project, The Western Journal reports:
The proposed 125-acre park is comparable to Disney World's Magic Kingdom, located in Orlando, Florida, and Disneyland in Anaheim, California.
"The park will feature an Americana-themed environment with a variety of entertaining rides, live shows, family attractions, waterways as well as restaurant-quality food and beverage offerings," the release said.
It's set to be comprised of six distinct areas—Great Plains, Bayou Bay, Big Timber Falls, Stony Point Harbor, Liberty Village and Electropolis.
I want to live in Liberty Village.
Former Disney personnel are prominently listed among the executive team members, the Western Journal story notes:
The park's design team is made up of over 20 former Disney Parks builders and Walt Disney Imagineers and together share "over 500 years of Disney and Entertainment experience."
The company's founder and chief creative officer, Gene Bicknell, clearly intends the project to be seen as a high-quality, pro-American alternative to Disney, as the WJ story reports:
"There is so much to celebrate about our country: its landscapes, its cultures and most importantly, its people," Bicknell said. "No matter where you're from, you'll feel right at home at American Heartland."
He added, "American Heartland will be a place families can come together to create lasting memories, experience joy, laughter, imagination and wonder."
It's entirely possible that the thing will be a great big flop, but it is noteworthy that people are willing to bet more than $2 billion that Americans are largely done with Disney.
Meanwhile, Fox News Channel has come under fire for "subsidiz[ing] some of the very activist groups that despise and seek the ruin of the network's viewers, evidencing a 'complete disregard and hatred' for its core audience," The Blaze reports in an exclusive story:
"Fox Giving" is an app in the company portal that facilitates charitable donations via the Canadian-based donation management platform Benevity. Fox will apparently match donations up to $1,000 to various organizations that satisfy the company's criteria.
While on its face, this appears to be little more than an attempt at corporate beneficence, the company is willing to match donations to the Satanic Temple, the Trevor Project, Planned Parenthood (and local Planned Parenthood branches), and the Southern Poverty Law Center—radical leftist groups antipathetic to conservatives and the values they hold most dear.
The Fox News Channel employees The Blaze interviewed say "the liberal musculature behind the network's conservative face has been growing stronger in recent months." The behind-the-scenes transformation may be intended to placate "the ESG police," as one insider called it, though all the whistleblowers seem to agree that "there's definitely a mismatch in values" between the company and its audience:
One current employee stressed, "Fox pretends to care about Christians, but some of the stuff they push internally suggests otherwise. Glory holes, trans surgeries for kids, and potential donations to Satan are a huge slap in the face to every Christian at the company, and we resent it," adding, "It offends me personally that this company acts like they support Christians and yet they're literally willing to match $1,000 donation[s] to the Satanic Temple."
The insider intimated that this and other Fox capitulations to the woke left were a means of "signaling to whatever ESG police are out there … 'don't come for us.'"
This controversy arrives in the wake of massive viewership losses at the channel in response to the cancellation of Tucker Carlson Tonight, which audiences perceived to be a direct attack on their values and political leanings.
Beyond the world of communications media, a company characterizing itself as pro-life, pro-family, and pro-freedom is positioning itself as an apolitical alternative to Amazon.com. PublicSq. became a publicly traded company last Thursday.
PublicSq. CEO Michael Seifert is taking the position that the American people are tired of being lectured by big-business leftists, Fox Business reports.
"Clearly, there's this very large, unaddressed market in the United States that feels like, in the era of sort of woke or progressive corporatism, they're not being talked to. In fact, in many cases, they're being actively ignored or antagonized," Seifert told FOX Business.
PublicSq. now has over 1.1 million consumer members active on its platform and more than 55,000 businesses, 90% of which are small businesses. Accounts are free for both buyers and sellers.
For PublicSq., the remedy for corporate leftism is to build a "patriotic, parallel economy" free of the political coercion of business partners and customers:
"We're not asking anybody to be political," Seifert said. "We're certainly asking them not to lecture us about our views and values and to live in alignment with those so that our consumers don't feel like they're having to fund causes they stand opposed to."
As with Disney, making a dent in Amazon's dominance of retail sales is an extremely ambitious goal. The fact that businesses are taking on these seemingly insuperable corporate giants indicates an increasing awareness that the public is eager for an alternative to woke corporatism.
Sources: American Military News; Inside the Magic; Inside the Magic; The Blaze; American Heartland Theme Park; The Western Journal; Fox Business News
---
Fraying Threads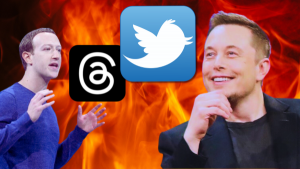 Remember the good old days of a couple of weeks ago, when Meta's spanking-new social media app Threads was going to destroy Twitter? My, how times change.
After rapidly gaining 100 million subscribers (out of approximately two billion Meta users), Threads has stalled and in fact regressed, with use of the app now barely one-fourth of what it was two weeks ago, The Wall Street Journal reports: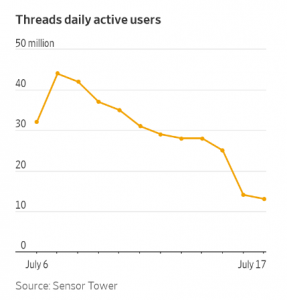 For a second week in a row, the number of daily active users declined on Threads, falling to 13 million, down about 70% from a July 7 peak, according to estimates from market intelligence firm Sensor Tower.
The average time users spend on the iOS and Android apps has also decreased to four minutes from 19 minutes. The average time spent for Android users in the U.S. dropped to five minutes from a peak of 21 minutes on launch day, according to SimilarWeb, a digital data and analytics company.
Twitter is doing just fine, the paper notes: "Twitter's daily active users remain steady at about 200 million, and average time spent is at 30 minutes a day, according to Sensor Tower estimates."
In a world where business has been thoroughly politicized, conflicts that once were interesting mainly to stockbrokers and their clients have become matters of public policy controversy. Now, one's attitude toward a business is greatly based on its political positions.
Source: The Wall Street Journal
---
 Farage De-Banked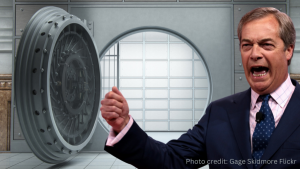 The former head of two major political parties in Britain was de-banked recently because of his political and cultural views.
Remix News reports (h/t ZeroHedge):
Nigel Farage had his bank accounts shut down with the high-net-worth bank Coutts after officials decided the former conservative politician's views did not align with the bank's values, it has emerged.
The former UKIP and Brexit Party leader went public last month with the difficulties he was having in opening a U.K. bank account after Coutts, an institution he had been banking with for almost a decade, inexplicably closed his accounts and several other banks refused his applications to open a new one.
Coutts then doubled down on its attack on Farage by claiming that he did not have enough money to qualify as a customer.
That turned out to be a lie, Farage noted on Twitter: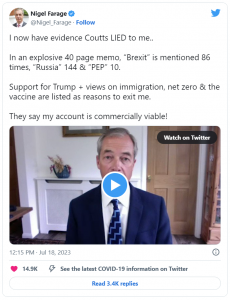 The Left fears and hates Farage. The former leader of the UK Independence Party, Farage led the successful Brexit campaign, was elected to the European Parliament in 2017, and now hosts a talk show on GB News. Farage is widely beloved in Britain: a recent poll by The Express found that he is the UK's favorite politician. He is broadly hated by the nation's political and cultural establishments, which is no coincidence. Farage's views on individual rights, justice, personal liberty, national sovereignty, and economic freedom attract large support from the public and are anathema to the woke elites.
That is the real reason Farage was de-banked, the Remix News story notes:
In a 40-page dossier Mr. Farage acquired via a subject access request, Coutts made it clear that his conservative views were problematic for the bank, citing Brexit no fewer than 86 times, and his support of Donald Trump who is mentioned 39 times.
The minutes of a meeting of Coutts' wealth reputational risk committee held on Nov. 17 last year stated that Mr. Farage is "seen as xenophobic and racist. He is considered to be a disingenuous grifter. Being associated with Nigel Farage presents a material and ongoing reputational risk to the bank."
The dossier states that Farage was in fact economically qualified for an account at the bank and was a model customer. The Express reports:
The bombshell document states from a commercial point of view, Mr Farage met its criteria to hold an account with Coutts and he had always acted professionally and courteously with staff.
The document unambiguously notes: "He meets the EC [economic contribution] criteria for commercial retention."
The Coutts document states "this was not a political decision but one centered around inclusivity and Purpose"—as if those things have not been thoroughly politicized and weaponized by the political, corporate, and institutional Left.
The CEO of NatWest, which owns Coutts, issued a public apology to Farage. Yahoo!Life reports:
Dame Alison Rose said that the "deeply inappropriate comments made in the now-published papers prepared for the Wealth Reputation Risk Committee, do not reflect the view of the bank", as she apologised to Mr Farage.
"No individual should have to read such comments and I apologise to Mr Farage for this.
"I have written to him today to make that apology and reiterate our offer of alternative banking arrangements."
The bankers knew exactly how momentous their action against Farage was.
"Both freedom of expression and access to banking are fundamental to our society," Rose said.
That explains why Coutts de-banked Farage. It is part of an ongoing campaign of "fundamentally transforming" the United States, Britain, and the rest of what used to be known as Christendom.
As a private enterprise, a bank would seem to have a right to decide whom to take on as a customer. If a bank, or any other private concern, does not want a customer's money, it has a basic right to that choice. The granting of privileges to corporations, however, (especially limited liability) gives them a market advantage for which the public has a right to extract just compensation. That is why it is correct to see Coutts's decision as a political matter and a fair topic for public discussion.
In the United States, moreover, Title II and Title VII of the Civil Rights Act of 1964 removed all rights of businesses to decide whom to serve and hire (through a gross overinterpretation of authority granted to Congress in the Interstate Commerce Clause, which subsequent court decisions have consistently overlooked). The fact no legal enterprise in the United States can be plausibly described as private and free means government and business are inextricably tied. It also means that government, which has a monopoly on legitimate violence, always gets its way eventually.
Thus, across the pond, Farage gets punished by an ostensibly private concern because he has run afoul of the state.
The attempted punishment of Farage is mild in comparison with the treatment of former President Donald Trump by the U.S. government and the nation's most powerful public and private institutions. We may attribute that, at least in part, to the fact Farage never reached the position of prime minister. (Farage has strongly supported Trump since the latter's entry into politics.) The de-banking of such a prominent figure, however, represents an intensification of the assault on political liberty and the rights to speech and assembly in Britain, which are not as conveniently defined as in our Bill of Rights in the United States. Of course, the American Left has made much noise about diluting or eliminating those rights here.
If you want to know what the American Left intends for you, just look to Europe. And shudder.
Source: Remix News; The Express; The Express; Yahoo!Life
---
 What's in Your State's Wallet?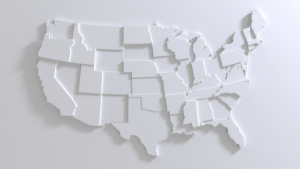 The good people at Truth in Accounting have just released an excellent report ranking all 50 states' governments on the transparency of their financial reporting in fiscal year 2021, the most recent year for which full records are available.
Spoiler alert: the top five states are Idaho, New York, Virginia, North Dakota, and Utah. Bottom five (from worst to slightly less awful): Illinois, California, Nebraska, North Carolina, and Georgia.
Some of the items determining the state scores deal with processes and convenience. Two others are of particular interest because they penalize states for creating overly rosy reports by misreporting important liabilities:
Include a net position not distorted by misleading and confusing deferred items
Report all retirement liabilities on its balance sheet (statement of net position)
Truth in Accounting has long been pointing out that the requirements of the Governmental Accounting Standards Board (GASB), a nongovernmental organization that sets accounting standards for state and local governments, allow states to distort their financial positions by manipulating classification of assets and liabilities:
GASB requires governments to use confusing and misleading accounts called "deferred outflows" and "deferred inflows." Most items in these accounts distort governments' net positions, or overall financial condition, and revenue and expenses. Most of the deferrals are related to pension and retiree health care debt. For example, instead of recognizing the full gain in the value of its pension plan investments as income during the year in which the gain occurs, a government increases deferred inflows, which is on the liability side of its balance sheet. In this case, the government's net position would be falsely understated.
Each state's score is based upon the percentage the asset side of its balance sheet is overstated due to deferred outflows, plus the percentage the liability side of its balance sheet is overstated due to deferred inflows.
The Truth in Accounting reports "provide a 'best practices' framework for government officials and citizens that can be used to improve their government's transparency and accountability," the report states.
Source: Truth in Accounting
---
Cartoon