Patients seeking care in the Mass General Brigham (MGB) health system had better watch their language, or risk being told to seek attention for their ailments elsewhere.
MGB released a "Patient Code of Conduct" in the fall that is being criticized for its vague language and "wokeness."
"Everyone should expect a safe, caring, and inclusive environment in all our spaces," MGB's code states. The code includes five examples of "words or actions that are disrespectful, hostile, or harassing."
Hospitals have traditionally had codes of conduct. Threats and violence have never been welcome. MBG is now including "offensive language" to be a patient violation.
'Make Other Plans'
Patients accused of running afoul of the code are put on notice that their actions will have consequences.
"If we believe you have violated the Code with unwelcome words or actions, you will be given the chance to explain your point of view," states the code. "We will always carefully consider your response before we make any decision about your future care at Mass General Brigham. Some violations of this code may lead to patients being asked to make other plans for their future care. …"
The code also applies to "family, visitors, and research participants," states MGB Senior Medical Director for Health Equity Allison Bryant in a video. The code advises patients to report objectionable behavior by others to care team members.
'National Rise in Violence'
MGB says it adopted the code to deal with the growing threat of violence and abusive behavior by patients or visitors, citing a 2022 survey of nurses in which 48 percent of respondents reported an increase in workplace violence—more than double the percentage from a year earlier.
"In response to the national rise in violence and hostile behavior at healthcare facilities, Mass General Brigham has implemented a systemwide code of conduct for visitors and patients," MGB states on its website.
Another goal is creating "a safe, caring, and inclusive environment," stating "Our Patient Code of Conduct helps us to meet this goal. Words or actions that are disrespectful, racist, discriminatory, hostile, or harassing are not welcome."
An internet search found one other hospital, Houston Methodist, now including offensive language as a patient violation and in fact, uses the exact language as the MGB new code.
Code Serves 'Woke Ideology'
The vague language in the code makes it ripe for abuse, states Do No Harm, a physician advocacy group, in an article on its website titled "Will Mass General Kick Non-Woke Patients To The Curb?"
"Everyone can agree that racism, discrimination, and harassment don't belong in a medical setting, much less anywhere else," states the article. "But the problem is that Mass General fails to define these terms, so there's no indication who decides what constitutes a violation."
In practice, the code could be used against patients who use the wrong pronouns or "misgender" their caregivers, says Do No Harm.
"As we've seen, medical leaders are thoroughly steeped in woke ideology," states the article. "They are likely to take a dim view of anyone who doesn't toe the party line."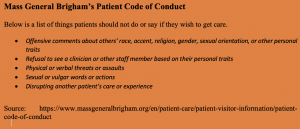 'Another Big Brotherism'
MGB's code goes beyond traditional hospital protocols in attempting to police speech, says Marilyn Singleton, M.D., J.D.
"We all strive for civility in our society," said Singleton. "Physical attacks and threats are clearly a matter for hospital security officers or law enforcement. A patient speech code is yet another Big Brotherism."
Sick people have more immediate concerns than their conduct or language, says Singleton.
"Medical settings include mentally ill individuals and patients and families who are in physical pain and/or emotionally vulnerable," said Singleton. "A more appropriate administrative response to deal with verbally unruly patients would be teaching staff de-escalation."
'You Have No Choice'
Patient behavior should be judged in the context of a hospital setting, says Jane Orient, M.D., executive director of the Association of American Physicians and Surgeons.
"In case anyone thinks they have a 'right' to medical care, think again," she told Health Care News. "Suppose you request a different nurse to care for a family member because a nurse was neglectful, cruel, or for some reason, frighting—and the nurse happens to be black. Or you don't want your child to be cared for by someone attired like a drag queen?"
The code takes away patients' right to decide, says Orient.
"You have no choice of caregiver, and lack of acceptance of a 'minoritized' person might get you excluded," said Orient. "Patients are there because they need help, not to be enforcers of a political agenda. The hospital is there to meet patients' needs, not to use patients to meet the staff's needs."
Bonner Russell Cohen, Ph.D. (bcohen@nationalcenter.org) is a senior fellow at the National Center for Public Policy Research. AnneMarie Schieber and Joe Barnett contributed to this article.