Prolonged school closures during the COVID-19 pandemic will have long-term costs for students, say analysts.
The disadvantaged children today who lost years of learning face a 16.6 percent loss of the wealth they were projected to accumulate by 2040, and 10.9 percent of the labor income they otherwise would have earned, according to an analysis published by the Committee to Unleash Prosperity (CTUP) on April 2. The estimated costs rise throughout their work life and amount to trillions of dollars in losses.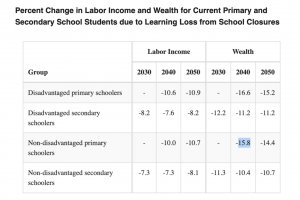 "After three years it's clear school closures had literally zero health benefit—nearly 100 percent of kids got COVID anyway—but massive educational, social, developmental, mental health, and economic harms," said Kerpen. "All of this was not just predictable but predicted, and the mistake of extended school closures should never be allowed to happen again."
Despite calls from federal health officials in 2020 to reopen schools, teachers' unions demanded prolonged shutdowns, Kerpen and Stephen Moore, the co-founder of CTUP, wrote in the New York Post on April 2.
 "The teachers unions played a major and inexcusable role in keeping schools locked down," wrote Kerpen and Moore. "What is maddening is that closing public schools was entirely unnecessary from a health standpoint. After relatively brief closures, almost all private schools reopened with no negative health impact."
—Staff reports
For related articles on the consequences of school lockdowns, click here.