Life Liberty Property #29: Colorado's 'universal' preschool program excludes Catholics by imposing nondiscrimination requirements.
IN THIS ISSUE:
Colorado's 'Universal' Preschool Program Excludes Catholics
California DEIin'
China Crisis
Cartoon
SUBSCRIBE to Life, Liberty & Property (it's free). Read previous issues.
---
Colorado's 'Universal' Preschool Program Excludes Catholics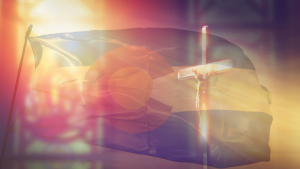 Colorado Catholics are suing the state to stop it from excluding them from educating students under the state's universal preschool program.
The Archdiocese of Denver, St. Mary Catholic Parish in Littleton, and St. Bernadette Catholic Parish in Lakewood filed suit on Wednesday against the heads of the Colorado Department of Early Childhood (CDEC) and the Colorado Universal Preschool (UPK) Program.
"The Plaintiffs discovered that the newly created Department of Early Childhood ("Department") had imposed requirements on participation in the UPK program that would categorically exclude all Archdiocese of Denver Catholic preschools because of the Catholic Church's sincere and long-held religious beliefs," the lawsuit states.
At issue is the CDEC's requirement that schools base their enrollment decisions on the preferences of state bureaucrats on sexual matters. This is in regard to preschoolers, mind you. "CDEC requires preschools to accept all students regardless of their sexual orientation or gender identity in order to participate in the universal preschool program enacted last year," The Center Square reports.
The state bureaucrats' rule effectively eliminates Catholic organizations from participating in the program, the lawsuit argues:
Specifically, the Department is purporting to require all preschool providers to accept any applicant without regard to a student or family's religion, sexual orientation, or gender identity, and to prohibit schools from "discriminat[ing] against any person" on the same bases.
These requirements directly conflict with St. Mary's, St. Bernadette's, and the Archdiocese's religious beliefs and their religious obligations as entities that carry out the Catholic Church's mission of Catholic education in northern Colorado.
Noting that the program would prohibit policies the parish schools currently follow, which are based on the church's teachings, the complaint says the government department refused to grant a religious exemption that would allow parents to send their children to these schools under the program:
The Archdiocese's preschools were part of a coalition of religious preschool providers that asked the State to recognize religious exemptions and alerted the Department to the problems its implementation of the UPK program had created for religious schools.
The Department, however, made clear it would not grant Plaintiffs a religious accommodation that would allow them to participate in the UPK program.
The plaintiffs are requesting that the court strike down the rules:
a. Declare that the religious affiliation, sexual-orientation, and gender-identity nondiscrimination requirements as set out in the Universal Preschool (UPK) Colorado Program Service Agreement violate the First Amendment to the United States Constitution as applied to Plaintiffs' religious exercise; Case No. 1:23-cv-02079 Document 1 filed 08/16/23 USDC Colorado pg 33 of 35 34
b. Declare that the religious affiliation, sexual orientation, and gender identity nondiscrimination requirements of Colo. Rev. Stat. § 26.5-4-205(2)(b) violate the First Amendment to the United States Constitution as applied to Plaintiffs' religious exercise;
c. Issue preliminary and permanent injunctive relief prohibiting Defendants from denying Plaintiffs participation in Colorado's UPK program based on Plaintiffs' religious beliefs, character, and exercise. …
The plaintiffs appear to allude to a pair of recent landmark Supreme Court cases without citing them directly. The lawsuit states,
Colorado did not have to create a universal preschool funding program, but in doing so it cannot implement that program in a way that excludes certain religious groups and providers based on their sincerely held religious beliefs.
That harkens back to the U.S. Supreme Court's decision in 2017 in Trinity Lutheran Church of Columbia, Mo. v. Comer, in which the Court held that a state cannot deny to a church or religious organization a benefit or right that other entities may enjoy: "Here there is no question that Trinity Lutheran was denied a grant simply because of what it is—a church," wrote Chief Justice John Roberts in the decision for the majority.
The defining issue in Trinity Lutheran was that the state denied the government assistance strictly because the organization asking for it was a church:
In this case, there is no dispute that Trinity Lutheran is put to the choice between being a church and receiving a government benefit. The rule is simple: No churches need apply.
The State in this case expressly requires Trinity Lutheran to renounce its religious character in order to participate in an otherwise generally available public benefit program, for which it is fully qualified. Our cases make clear that such a condition imposes a penalty on the free exercise of religion that must be subjected to the "most rigorous" scrutiny.
In 2022, the Supreme Court went further, declaring in Carson vs. Makin that parents have a right to use state tuition aid to send their children to parochial schools if the program provides that assistance to those attending nonreligious private schools. Writing for the 6-3 majority, Chief Justice John Roberts stated, "Maine chose to allow some parents to direct state tuition payments to private schools; that decision was not 'forced upon' it. … As we held in Espinoza, a 'State need not subsidize private education. But once a State decides to do so, it cannot disqualify some private schools solely because they are religious.'"
The major question in the present case will be whether the state has a compelling interest in preventing discrimination against the groups specified in the policy, such that the fact the restriction affects only religious schools can be seen as an incidental effect. The plaintiffs repeatedly state that their policies are not discrimination, thus setting the stage for a debate over whether the state can withhold a public benefit based on the exercise of a person's or organization's religious beliefs as noted in item "c" in the plaintiffs' requests quoted above.
This is precisely the sort of case that has been increasingly ending up before the Supreme Court in recent years.
It's interesting to note that fully three decades ago there was a certain amount of libertarian opposition to school choice, as Future of Freedom Foundation President Jacob Hornberger recalled in an article last year in which he stated his long-held belief that voucher programs would corrupt private schools and vouchers would essentially "help ensure the permanent disappearance of totally independent private schools." Taxpayer-funded choice, Hornberger argues, is not liberty nor conducive to it:
There is only one way to achieve educational liberty, That way is the repeal of compulsory-attendance laws, the abolition of school taxes, the selling off of the school buildings and the end of state involvement in education. Let's leave statist reform programs to conservatives. Let us libertarians continue raising the standard for genuine liberty by continuing to make the case for the separation of school and state, just as our ancestors did in the area of religion.
The Colorado case will at least decide whether the pace of corruption will be hastened or slowed.
Sources: St. Mary Catholic Parish et al. v. Lisa Roy and Dawn Odean; The Center Square;  Trinity Lutheran Church of Columbia, Inc. v. Comer; Future of Freedom Foundation
---
California DEIin'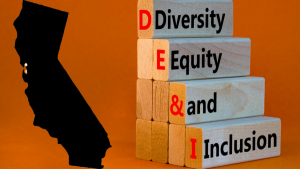 A free-speech advocacy group is leading a lawsuit to stop new regulations by the state of California that require professors to teach according to "diversity, equity, and inclusion" (DEI) standards.
On behalf of six California community college professors, the Foundation for Individual Rights and Expression (FIRE) filed the lawsuit on Thursday against March 2023 amendments to Title 5 of the California Code of Regulations that require the use of diversity, equity, inclusion, and accessibility standards in employee evaluations and tenure reviews.
The standards violate professors' speech rights by forcing them to teach and express their personal belief in ideas with which they may disagree, The Center Square  reports:
According to the lawsuit, this means the more than 54,000 professors who teach within the California community college system will be required to include "anti-racist" perspectives into their teaching. Professors not only would have to write diversity statements and develop "knowledge of the intersectionality of social identities and the multiple axes of oppression that people from different racial, ethnic and other minoritized groups face," but their performance and tenure would even be evaluated on their commitment and promotion of this viewpoint.
The regulations do not open up discussion of controversial issues but instead close down debate and require professors to teach that white people are inherently racist and oppressive, FIRE notes on its website:
An official glossary of terms released by the state makes plain that the "anti-racist" views it mandates are highly ideological. Indeed, the definition for "anti-racism" states that "persons that say they are 'not a racist' are in denial." California declares that "color-blindness," or the belief that "the best way to end prejudice and discrimination is by treating individuals as equally as possible, without regard to race, culture, or ethnicity," is itself a problem because it "perpetuates existing racial inequities and denies systematic racism."
Even a professor saying something as benign as "I grade my class based on merit" is suspect under the regulations. "Merit is embedded in the ideology of Whiteness and upholds race-based structural inequality," the glossary claims. "Merit protects White privilege under the guise of standards … and as highlighted by anti-affirmative action forces."
FIRE is consistent in its defense of free speech, noting that it "filed a lawsuit against Florida's 'Stop WOKE Act' as it applies to college classrooms" last year:
In that case, Florida's legislature, like California Community Colleges, sought to dictate what views public university professors can express when teaching. In November 2022, a federal court granted FIRE's motion for a preliminary injunction to block enforcement of the Stop WOKE Act, calling it "positively dystopian."
"Whether it's states forcing professors to teach DEI concepts or states forcing them not to teach concepts that lawmakers deem 'woke,' the government can't tell university professors what views they are or aren't allowed to debate in the classroom," said FIRE attorney Jessie Appleby.
It's arguable that state governments have the right to tell employees of state educational institutions what to teach and how. What is indisputable is that California's DEI rules are antithetical to education. As the FIRE website article notes,
"Hearing uncomfortable ideas is not 'curricular trauma,' and teaching all sides of an issue is not 'weaponizing' academic freedom," said Loren Palsgaard, a professor of English at Madera Community College and a plaintiff in the suit. "That's just called 'education.'"
As noted in the Colorado preschools story above, government simply cannot be trusted with a matter as important as education. Government corrupts education as surely as fungi rot apples.
Sources: The Center Square; Foundation for Individual Rights in Education
---
China Crisis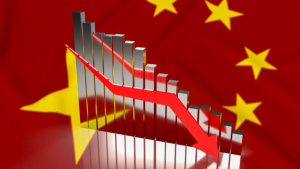 As I noted three weeks ago (LLP #26), China's economy is crumbling.
The latest news is the bankruptcy filing by the Evergrande Group in New York on Thursday. Evergrande used to be China's second-biggest home builder and is now China's "most heavily indebted property developer," The Epoch Times reports.
The bankruptcy filing "came after the firm put off meetings regarding a $3.2 billion restructuring plan to keep the company afloat," the paper noted. That wasn't all that went wrong: "Evergrande's affiliate Tianji Holdings also sought such protection on Thursday."
The Epoch Times story includes sobering numbers:
Once China's second-largest homebuilder by sales, Evergrande defaulted in late 2021 with some $300 billion of debt on its back. Companies accounting for 40 percent of Chinese home sales have since defaulted, and Country Garden, another leading Chinese developer, on Aug. 6 missed two dollar-denominated bonds totaling $22.5 million, leaving it a 30-day grace period before it gets labeled a defaulter.
Evergrande recently had about $330 billion in liabilities. It posted a combined $81 billion loss for 2021 and 2022 last month.
The Chinese real estate market is in a shambles. The Epoch Times  story reports that other firms in addition to Evergrande and Country Garden are on the edge of disaster:
Anxiety about the Chinese real estate market has been compounded after a major Chinese trust company that has sizable real estate exposure, Zhongrong International, missed payments on dozens of investment products.
JPMorgan in a research note on Monday said the rising trust defaults would drag down China's economic growth by 0.3 to 0.4 percentage points, triggering a "vicious cycle" for real estate financing.
As I noted in LLP #26 and in previous issues of this newsletter, China's economic problems are attributable in part to policy errors by the Chinese Communist Party. Perhaps you are shocked to find out that a Communist government has made mistakes in controlling a highly government-managed partial market economy. Western enthusiasts for China's economic model were wrong about its sustainability. It is much easier to make quick temporary progress down the road to economic development than to keep it going over multiple decades as your nation's population and culture change in response to the greater prosperity. Sustainable growth requires cultural and political conditions that China does not have, such as blind justice and evenhanded rule of law.
If that causes you concern about the decline of those concepts here in the United States, you have grasped the significance of this matter for us.
The fundamental source of China's economic retrenchment is even more concerning than the government's policy mistakes: a long-term and unstoppable slowing of economic growth as makers of goods and services increasingly become consumers thereof as the population rapidly ages and people retire. Meanwhile, youth unemployment is rising rapidly, so fast in fact that the government has stopped reporting on it. China's work culture is breaking down.
China's economic decline is going to have powerful knock-on effects all around the world. An item of major interest to Americans is summed up by a recent headline in The Wall Street Journal: "The Era of Ultracheap Stuff Is Under Threat." It is indeed. As the article's sub-headline notes, "Factories across Asia are struggling to attract young workers, which is bad news for Western consumers accustomed to inexpensive goods."
Will that be good news for American suppliers of manufactured goods? That depends on whether our government does a better job of handling this massive change in the world economic order than China has thus far.
I would not bet on it.
Source: The Epoch Times
---
Cartoon