By Tom Gantert
A majority of U.S. voters say children should not undergo transgender interventions, even with parental permission, a nationwide Center Square poll found.
Medical interventions, such as gender-changing surgery or puberty blockers for children younger than 18 years old, were opposed by 58 percent of the 2,500 registered voters surveyed, including 62 percent of men and 54 percent of women.
Ten percent of those polled said children should be able to undergo these inventions if they choose and another 21 percent said children should be able to undergo these interventions, but only with parental permission. (See the nearby graphs.)
The poll, with a margin of error of plus or minus 2.4 percent, was conducted by Noble Predictive Insights from July 31 to August 3 and consisted of 1,000 Republicans, 1,000 Democrats, and 500 independents.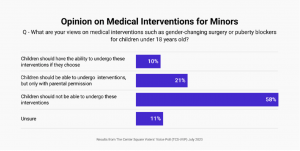 'That's a Non-starter'
The lack of public support for transgender interventions of minors is noteworthy, says Mike Noble, founder and CEO of Noble Predictive Insights.
"What's surprising—for how much you hear about it, how much it is in your face—you look at the public opinion data and there's definitely not a majority who are in support of this,"  said Noble. "Six in ten are saying, 'that's a non-starter.'"
Of those who identified as "strong Democrat," 22 percent said children should be allowed to undergo gender-changing surgery or puberty blockers. Forty percent said such procedures should be allowed but only with parental permission. Twenty-three percent identifying as "strong Democrats" were against the interventions and another 15 percent were unsure.
Sixty-four percent of voters with children under the age of 18 said minors should not undergo transgender medical interventions.
"The people who were the least on board were people who had children under the age 18," said Noble. "The ones who are the most supportive are the ones who never had children."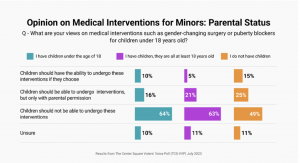 Legislatures Take Action
State officials and legislatures have taken diametrically opposed actions to ban such procedures for minors or prevent such bans from being implemented.
Arkansas, Florida, Georgia, Indiana, Missouri, North Carolina, Tennessee, Texas, and at least 10 other states have put restrictions in place on trans procedures for children. Some of the legislation is being challenged in court.
California is leading a coalition of 20 mostly blue states that includes Illinois, Massachusetts, Michigan, New York, New Jersey, Oregon, and Washington, in opposing Kentucky's and Tennessee's restrictions in federal court.
Tom Gantert (tgantert@thecentersquare.com) is the managing editor of The Center Square. A version of this article appeared in The Center Square on August 31, 2023. Reprinted with permission.