Americans will no longer have to identify their sex as either male or female when filling out passport applications.
The U.S. State Department replaced passport application questions about the sex of the applicant with questions about his or her gender marker (M/F/X)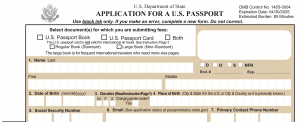 and parent's or parents' gender markers, on April 11.

Applicants are not required to provide medical documentation of any kind for their self-selected gender, and their gender does not have to match the sex recorded on supporting documents, such as birth certificates. The "X" gender marker is for "unspecified or another gender identity," according to the State Department website.
The State Department set out to create a marker for "non-binary, intersex, and gender non-conforming individuals," but the vaguer final definition was chosen to be "respectful of individuals' privacy while advancing inclusion," said Secretary of State Antony Blinken, in a statement announcing the change, on March 31. Blinken said the "X" option will be available for other travel documents starting in 2023.
'An Ever-Changing Social Dialogue'
Blinken's announcement coincided with the International Transgender Day of Visibility, a holiday created by a transgender activist in 2009 and first recognized by President Biden in 2021.
A few other countries, including Australia, Canada, New Zealand, and Nepal, allow citizens to choose a gender, rather than male or female sex, on their passports. The "X" gender option is available for driver's licenses in 21 states plus the District of Columbia, and for birth certificates in 16 states plus D.C.
Oklahoma Gov. Kevin Stitt signed into law the nation's first ban on nonbinary gender markers on birth certificates on April 26. The law was in response to a settlement of a lawsuit by the state's health department in which it agreed to alter an adult's state-issued birth certificate to "gender X." Oklahoma state Rep. Sheila Dills (R-Tulsa), who introduced the bill, said government data should be objective, not subjective, U.S. News reported.
"People are free to believe whatever they want about their identity, but science has determined people are either biologically male or female at birth," said Dills. "We want clarity and truth on official state documents. Information should be based on established medical fact and not an ever-changing social dialogue."
Gender Confusion Tipping Point
State recognition of nonbinary sexual identities is an attempt to manipulate reality, Arizona state Rep. John Fillmore (R-Apache Junction) told Health Care News.
"When the government starts dealing with people's 'feelings' we will be so far past the Orwellian moment some will feel we are in an Aesop fable or Dr. Suess's world," said Fillmore. "This is sad and absurd."
Fillmore has backed multiple bills to limit sexual identifiers on all state-issued documents to male and female. Fillmore introduced the most recent, HB 2294, which states "A document issued by any agency, board, commission or department of this state that is required by law to indicate an individual's sex may only indicate the individual's sex as either male or female."
HB 2294 failed in a vote by the Arizona House of Representatives, with the help of bipartisan opposition, on February 17.
Governments allowing nonbinary choices give credence to individuals' delusions, says Fillmore.
"When the 'feelings' start clogging courts, causing conflicting legislation, and so on, will America wake up?" Fillmore said. "The first thing we must do is establish that society is not responsible for feelings nor thoughts, and the silly ones must be sent back to the psychiatric halls that have created this stupidity."
Executive Activists
The current push to create the "X" marker came after activist Dana Zzyym sued the State Department for refusing to issue a sex-neutral passport, and the department issued Zzyym an "X" passport, in October 2021.
The U.S. passport form also includes a checkbox to indicate whether the applicant is changing the gender marker. A parent or legal guardian must provide consent to the gender identity selection of a dependent child under age 16.
The State Department website cautions the government "cannot guarantee your entry or transit through other countries" and travelers "may face entry restrictions in countries that do not recognize the X gender marker."
The White House also announced that it would add an "X" gender marker to the U.S. visa system. The Social Security Administration announced it would stop requiring a doctor's note to update an individual's record.
The U.S. Department of Homeland Security also announced it would update its airport body scanners, reducing screening to accommodate transgender, non-binary, and gender non-conforming travelers.
Harry Painter (harry@harrypainter.com) writes from Oklahoma.