A range of plans and studies proposing ways to stave off the insolvency of Medicare, the nation's primary health care program for seniors and disabled adults, have been published.
Hospital Insurance (HI) trust fund reserves are projected to be exhausted by 2028, according to the 2022 Annual Report of the Boards of Trustees of the Federal Hospital Insurance and Federal Supplementary Medical Insurance Trust Funds. By 2028, payroll taxes and other revenues will cover only 90 percent of Medicare HI costs.
In addition, new papers from the Mercatus Center at George Mason University and the Journal of the American Medical Association (JAMA) discuss fixing Medicare by addressing payments to doctors.
Making Medicare Competitive
Medicare's biggest issue is lack of competition, says Robert E. Moffit, Ph.D., a senior research fellow at the Center for Health and Welfare Policy at The Heritage Foundation and co-editor, with colleague Marie Fishpaw, of Modernizing Medicare.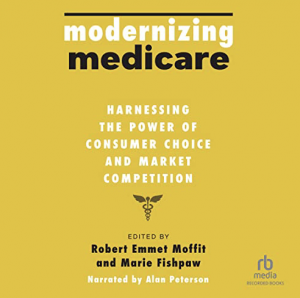 "We have eight years before the hospitalization program (Part A) falls into insolvency," Moffit said. "We have time, but we do not have time to waste. Hospitalization insolvency is only part of a much larger problem: the rapid growth of Medicare spending—doubling from $1 to $2 trillion in just 10 years for Parts A and B—will impose ever larger financial burdens on beneficiaries and taxpayers alike."
The Medicare trustees have warned the current Medicare payment systems for Parts A and B threaten seniors' access to high-quality care, says Moffit.
"The general answer to the problem is to transform the entire Medicare program—hospitalization, outpatient, and physicians' services, as well as drug coverage—into a fully competitive program," said Moffit. "Such a program would compel all health plans, including traditional Medicare fee-for-service (FFS), to compete on a level playing field in an environment of price and performance transparency."
Solutions That Have Worked
Medicare Advantage (MA) has demonstrated that it can offer traditional Medicare benefits for less, says Moffit.
"Congress and the White House should, therefore, build on the best features of the MA program of competitive private health plans, while fixing the program's flawed plan payment and risk adjustment systems," said Moffit.
 To start, Congress should make enrollment in MA the default enrollment, instead of Medicare (FFS), for new beneficiaries, says Moffit.
 "A senior would have the right to re-enroll in Medicare FFS if they wish; transform Medicare FFS into a single comprehensive plan rather than a disjointed set of entitlements, by combining Parts A and B into one package, with [a] simplified system of cost-sharing and the crucial addition of financial protection from the costs of catastrophic illness," said Moffit.
 Medicare beneficiaries should also be allowed to contribute to health savings accounts (HSAs) if they desire. Right now, those on Medicare are prohibited from setting up or contributing to an HSA.
"Their medical needs are far more diverse, costly, and complex than those of younger and healthier persons," said Moffit. "They should also be permitted to use such accounts for direct primary care if they wish to do so, and health plans should be permitted to offer direct primary care programs as a component of their health care benefits package."
New Way to Pay Doctors
   The authors argue for rebalancing the way Medicare reimburses doctors for care with pricing weighted toward low-price, high-value service. The authors also favor default enrollment in MA for new beneficiaries.
     A JAMA Health Forum article titled "Medicare Modernization – The Urgent Need for Fiscal Solvency," by Brian J. Miller, M.D., Lisa M. Grabert, MPH, and Eric D. Hargan, J.D., published on June 16, also recommends more value-based care, rewarding "value over volume," a bigger shift toward MA, and "orientating Medicare toward health rather than sickness."
Getting Serious with Privatization
The solution is to privatize the federal entitlement programs and their unfunded mandates, says Terry Nager, the principal author and founder of Plan For America.
"Our Medicare solution within Plan For America is one cog in a larger entitlement plan designed to replace payroll taxes with a contractual trust into which employees pay, designed to eliminate federal deficits, debt, and unfunded liability," said Nager.
"In our plan, the 15.3 percent that is currently paid in payroll taxes is instead remitted to an account administered by the private For America Security Trust (FAST), which invests funds in a program similar to a total market index fund," said Nager. "In addition, participants would pay an annual $1,200 health care premium toward a fully comprehensive medical coverage plan and would be the standard that is 100 percent tax deductible, with any unused amount being eligible for withdrawal by a participant, tax-free."
The plan would offer interest-free loans to help lower-income earners pay for health care and the loans could be paid off with the growth from the FAST account, says Nager. Participation would reduce the government's entitlement bill and the savings could then go toward paying off state and national debts.
"That combination should provide the political will to push the plan through," said Nager.
For related articles on Medicare Insolvency, click here.